2022 HYUNDAI KONA ELECTRIC TEST DRIVE
2022 HYUNDAI KONA ELECTRIC TEST DRIVE BY CAR CRITIC STEVE HAMMES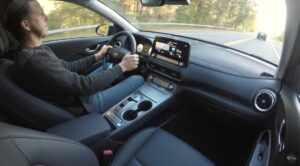 2022 Hyundai Kona Electric Limited…."Once you experience driving an electric car there's no looking back."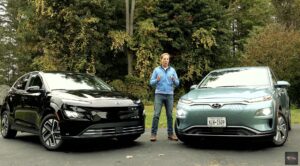 This here is my 2020 Kona Electric.  That's right; last spring I leased it for 3 years at a phenomenal rate – the first new car I've ever had.  And this here is the refreshed 2022 Kona – my tester.  So it's been fun this week comparing and contrasting; seeing if there's anything I'm missing on my 2-year old model that I'd really want.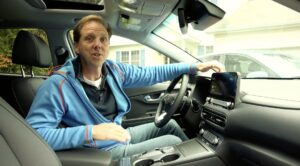 Six months into my electric car ownership experience and I love it.  Now, because I'm usually driving test cars my Kona doesn't get driven that often making me the perfect lease candidate and with my daughter learning to drive and having sold my Tacoma a couple of years ago the timing was right to add an EV to the household.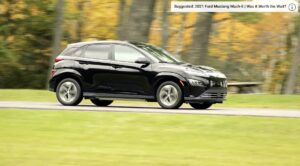 First, let's talk about price.  My car – the top trim Ultimate with a few nominal options carried a sticker price of $47,020.  But because it was a 2020 leftover I leased it for only $177 per month.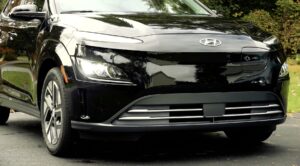 This new one sees a big price drop – over $3,100 less than my car at $43,840 for what is now called the Limited trim.  But, because it's been refreshed and dealer stock is down across the board – they're nearly impossible to find – there are zero in my area – the estimated lease rate is $463.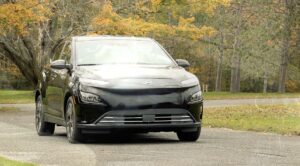 The Kona Electric advertises a 258 mile driving range and offers 3 levels of charging – the quickest of which takes less than an hour if you drain the battery all the way to zero – an unlikely scenario so in most cases it takes about 30 minutes to reach an 80% charge…just enough time to go shopping.  And even then, fast charging at Electrify America stations is free for 3 years.  I break down all of this charging minutia in my recent Mustang Mach-E video so I encourage you to check that out right after this.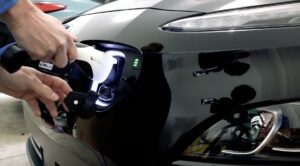 I plug my Kona into a standard outlet in my garage and for me an overnight charge typically brings me back to 100%.  And Maddie is excited about it because she can save her money for things other than gas.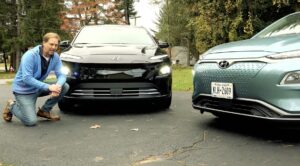 The most notable change this year is the Tesla-inspired, smooth front end with slimmer headlights.  I think Teslas are the ugliest cars ever produced so this is not a selling point to me but I kind of like the deletion of the SUV-like, gray body cladding.  It's now all body color and it classes the car up.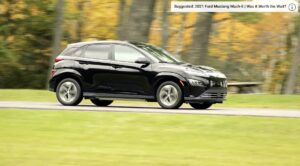 There's also this new wheel design, a restyled bumper and taillight design and the Blue Drive badge has also been deleted.  Inside there's a modernized driver display, the deletion of a few buttons, blue stitching on the seats and a redesigned center console now with a USB port in the rear.  I've also noticed the grilles of the 8-speaker sound system have swapped out the Infinity badges for parent company Harman.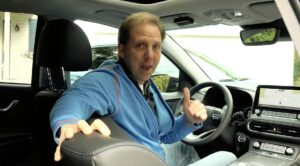 But my car has something you can't get anymore and I really miss it.  My 2020 has a head-up display – this one doesn't.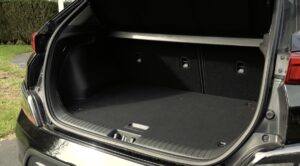 Hyundai really loads up this Limited trim so you get all of the safety features, the best infotainment and high-end convenience features like a heated steering wheel, heated and ventilated seats, and 3 years of BlueLink telematics which includes a great app for connecting with and controlling your Kona.  There's even a height adjustable passenger seat.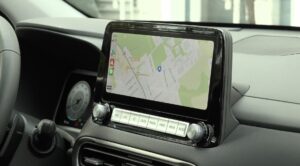 Earlier this summer my car had a huge infotainment update that brought this system up to current Hyundai standards so this screen and my screen are running the same level of Blue Link with navigation and it's a great system with the best on-board navi you can get.  
The voice commands actually work…imagine that…and as for EV features there's everything here you could want to manage your charging and plan out of town trips.  The stereo comes with Clari-Fi technology to clean up compressed music, there are Sounds of Nature for moments of relaxation and phone projection…just not wireless for this top-trim – only on the lesser SEL model –  which I really miss here because there is a wireless charger but with the cable attached it's a tight fit.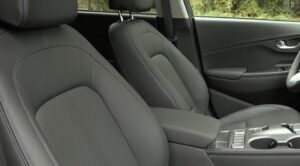 The Kona is on the small side – but you can ride back here without griping.  And new is this redesigned console with USB port.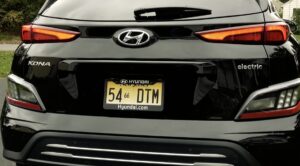 Available in SEL and Limited trims with a starting MSRP of $35,185 the Kona Electric does qualify for the full $7,500 federal tax credit but this model – like many others – are currently pretty scarce so pricing may vary.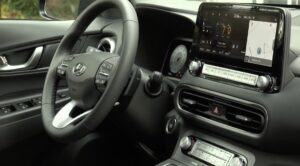 The biggest upgrade I wish I had was the quieter cabin.  Hyundai has given this one more sound deadening materials and it's noticeable.  My car is a little noisy.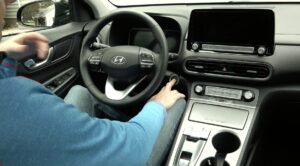 But I love driving it.  This thing is so sneaky quick.  It's the epitome of torquey electric output.  You can squeal these tires no problem.  With better tires it would also handle like a champ.  And my driving range has always exceeded my expectations and the EPA estimate of 258 miles.  I've seen 300 on a full charge.  Now I know I haven't been through winter yet but this one has a battery warmer so I'm hoping my cold weather range drop is less than 30%.      
The 150kW motor produces 201 horsepower and an immediate 291 pound-feet of torque giving this Kona surprising zip.  There are also multiple drive modes including Sport that delivers that power even more quickly.  An independent rear suspension and nicely weighted steering contribute to the stealthy performance but the Nexen tires are limiting.  As for the regen brakes – you can use the paddles to vary the degree to which one pedal driving is active or set it to smart and the Kona will decide for you.  I find that leaving it on automatic works best for the smoothest stops without using the brake pedal.  And the smart cruise control with stop and go operates especially well…perfect for city traffic.  I always look forward to driving the Kona EV which is the best compliment I can give.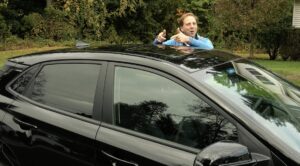 But here's something about the Kona EV I didn't realize before I leased it and it disappoints me.  While the regular Kona can be equipped with roof rack crossbars and hitch carriers this one can't.  So my kayaking and biking days have been 
The number of Hyundai accessories in general for the EV as opposed to the gas model are greatly reduced so that's a bummer and it should be noted that you can't get the Kona Electric with all-wheel drive and it doesn't tow.  But I'm very happy with mine and this updated 2022 model with the quieter cabin is a great choice if a small crossover is something you're considering and you're EV curious.  Much like we had to convince my grandmother back in the 80s that a microwave oven was something she would enjoy – and in short time very much did – driving an electric car is similar in that once you experience it there's no looking back.   
2022 HYUNDAI KONA ELECTRIC TEST DRIVE BY CAR CRITIC STEVE HAMMES |  TESTDRIVENOW 2021(c)