2019 ACURA RDX REVIEW
2019 ACURA RDX REVIEW BY AUTO CRITIC STEVE HAMMES
How important is the RDX to Acura? Not only is it their best-selling vehicle but this 2019 redesign is being heralded as the beginning of a new era for Honda's luxury division.  Remember the Super-Handling All Wheel Drive system that was skipped in favor of a lighter, simpler setup for the 2013 redesign? It's back.  And the original's turbocharged engine?  That's back, too.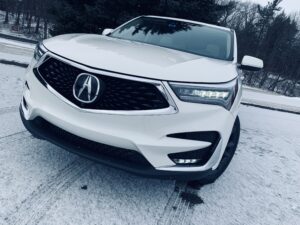 The RDX has an interesting history; born a turbocharged rebel, tranquilized in its adolescence and now arriving with a learned and confident persona, Acura's latest reboot of their ever popular luxury crossover is the RDX at its very best. Just like Honda, Acura is done with boring styling.  The brand exudes excitement through its designs and powertrains and finally delivers on its Advance promise by incorporating more of today's technologies.
Can you get a front-drive RDX for under $40,000? Yes.  But if you crave one with all-wheel drive, and the vast amount of goodies included in the Technology and Advance packages you'll end up with this attractive example.  Also fitted with 19" black wheels, MSRP is $50,495.  And with so much happening here, that price is not only justifiable but it seems like a bargain.
No longer a Honda CR-V clone, the RDX has gone its own way stretching its wheelbase by over 2 ½" and widening its body. Acura says its structure is lighter, more rigid and more tightly sealed than before and the driving experience corroborates these claims where the RDX uses its instantly accessible 280 pound-feet of torque, the company's typically great steering feel and the true-to-its-name Super Handling All-Wheel Drive to deliver a wonderfully sporty attitude that is both fun and evolved.  That being said, I've been debating all week whether the typically conservative Acura customer might find themselves a little out of their comfort zone here.  This RDX certainly appeals to the driver like never before.  But with the Advance package's new Active Damper System, the ride and handling can be tailored at the turn of a dial. I love how Acura integrated this feature making it easy and engaging to switch modes including Comfort, Sport, Sport + and Snow.  Not only does the suspension tuning change but the steering, throttle and traction control parameters are all adjusted for whatever you prefer not to mention Active Sound Control which can give the RDX's 2.0-liter engine a much more rebellious voice.  The new 10-speed automatic has a Sport mode as well, activated by pressing this button.  Though I appreciate the packaging efficiency of the shifter, it's certainly not the easiest to change directions when time is of the essence.  With precise wheel control and all of Acura's other handling assist technologies this RDX has the moves that will delight the enthusiast yet at the same time not alienate the casual driver with well-damped impact motions and a quiet cabin.
The RDX is so good now. It's finally hit its stride perfectly blending style, comfort and performance. It's really sporty, exactly where Acura is taking the brand. Though the 10-speed has its occasional hiccups with some undesirable manual tendencies like rolling backwards in gear, it's by in large a fitting companion to the torquey engine. And fake or not, the turbo sounds really good from in here with a convincing baritone voice. The seats and driving position are phenomenal, the steering is very quick and the handling is totally legit. I'd be very happy driving this every day.
A couple of more driving notes; even in its most relaxed setting the steering requires attention and 2 hands and the RDX's added width is palpable; from the driver's seat it really seems to fill a lane. On that front, the huge heads-up display helps keep you focused on the road ahead and the conveniently placed 360 degree camera button is a big positive.
When it comes to this beautiful cabin redesign Acura is very proud of 2 things; this ELS Studio audio system including 4 thin, ceiling-mounted speakers…and it really does sound incredible, matching or exceeding the richness of some much more expensive setups and this…a new touchpad to control infotainment. To preface this I should say I have had a professional Acura walk through with this new system, I've watched videos and I am on day 6 of my loan but no matter how hard Acura tries to convince me that this is the answer, it just isn't.  Is it better than the awful Lexus setup?  Yeah, but not by much.  Yet again, nothing beats the ease of use of a simple touchscreen.
It's called a True Touchpad because every spot on it is mapped exactly to the spot on the big screen, unlike the mouse-like movement from Lexus. It runs on an Android operating system that ironically doesn't play with Android Auto – only Apple CarPlay.  It's a little slow to boot and react, it can be glitchy, and if after a week of use I still need to think about how I'm going to change radio stations, then something hasn't gone as planned.  Though slow, voice commands seem to work best.  It's far from great but it's also not a deal breaker.  And one of the most amazing aspects is this 16-speaker audio system that is mesmerizingly good.  I find myself driving around aimlessly just to continue listening.  It's probably the best car audio system I've ever tested with such power and finesse that you'll experience elements of your favorite music you've never heard before.
Real metal, wood and leather create the perfect luxury setting, while extensive rear seat legroom and greater cargo room accessed via a kick of the foot renders deeply carved underfloor bins and fold flat seat levers for high functionality.
With 272 horsepower and 23mpg on premium, Acura has given the RDX balance and an overall likability that's hard to beat. Owners are going to love this one.
Tagged with:
2019
,
Acura
,
Advance
,
DTwithSteveHammes
,
latest video
,
RDX
,
reviews
,
road test
,
SH-AWD
,
steve hammes
,
test drive
,
top picks