2018 Toyota Camry Video Review
2018 Toyota Camry Video Review By Auto Critic Steve Hammes
It's the best-selling car in America for the last 15 years, dependable, pragmatic and, let's face it; a little boring. But Toyota is changing that narrative with this all-new 2018 Camry, now available in a sport flavor that's more than just skin deep.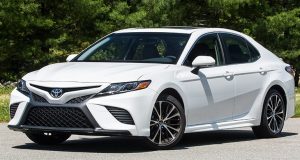 Toyota knows full well that America's love affair with the midsize sedan is currently undergoing marriage counseling. Their own customers have spoken loud and clear; they'd rather buy a RAV4, so this brand new Camry is Toyota's go big or go home moment for its favored four-door.  Unemotional styling has no place anymore.  Lackluster driving dynamics are passé.
This Camry takes a giant leap into the future.  It's sharp, refined, and dialed-in.  And while almost everyone in this class has replaced their V6 in favor of a turbo-4, Toyota still offers their 3.5-liter motor here.  As a matter of fact, there isn't a turbo to found in any Camry.  My car has the 2.5-liter 4-cylinder engine; in itself a marvel of modern engineering, equipped with every trick Toyota knows to blend power, smoothness and efficiency. It generates 206 horsepower and 186 pound-feet of torque while returning 32mpg in combined driving without the need for an automatic stop/start system…all very impressive.  And those results are with this range-topping XSE trim; one of 2 new sporty Camrys designed to be different from the rest of the pack.  You don't have to look closely to spot an SE or XSE, their uniquely aggressive bodystyles are distinguishable from 2 football fields away.  Unlike previous XSEs this one is seriously packing some heat, doing its best Nissan Maxima impression.  Painted in this flattering Ruby Flare Pearl – a $395 option – this is a Camry that truly attracts attention.
This 4-cylinder XSE has a powertrain that, at times, feels adequately energized and refined but that also shows a lazy, disjointed side. Driving in Sport mode alleviates some of the gear-hunting from the new 8-speed Direct Shift transmission, but driving enthusiasts who are thinking Camry better check-out the V6 model. The tight steering, impeccably tuned chassis and quiet ride can be appreciated by everyone, however.
Toyota's newly developed 8- and 10-speed Direct Shift torque converter transmissions have been engineered to blend the performance and efficiency attributes of a dual clutch gearbox with the smoothness of a conventional automatic. And my experience with it has been a bit Jekyll and Hyde.  In Eco and Normal driving modes, the engine can feel bogged down and too eager to upshift, negatively impacting the harmony.  But sometimes it's as smooth as butter with quick reacting acceleration.  Curious.  Using the paddle shifters adds northing to the sport factor.  But holy cow is this Camry on point with its new architecture.  The body is tight and lightweight, the suspension movements are precisely controlled with a double wishbone setup at the rear and the ride quality is Lexus-like.  It handles extremely well for a front-drive family car, benefitting from the XSE's beefier stabilizer bars, sport-tuned shock absorbers and springs and 19" all-season tires.  But it's the steering wheel that delivers the brightest driver's moment – this is electric assist at its best.
The interior has been crafted out of a higher quality mold, communicated through its richer touch points and Lexus quiet ride. But the touchscreen interface is mediocre at best.
This is the first Toyota to receive Entune 3.0 but its offerings and appearance don't wow me. No Sat Radio, no embedded navigation and no CarPlay or Android Auto.  You can use your connected smartphone to access Scout navigation but my experience with it has been poor.  The basic 6 speaker sound system really surprises with its hard hitting bass and acoustic spaciousness, a big plus.  The driver's seat with power lumbar is terrific and the ergonomic placement of the driver and forward visibility make it instantly inviting to get in and drive. The safety features are abundant like auto high beams, and adaptive cruise control with stop and go, lane departure alert with steering assist pedestrian detection among others – all standard.  The only major option on my tester is the large panoramic roof leading to an as-tested price of $32,253…a legit bargain.  Unlike its key rival, the equally all-new Honda Accord, the Camry remains a bit smaller but by no means small, retaining its true midsize dimensions, with ample rear seat room with sculpted, theater-style seating and a smartly cut, voluminous trunk.  As I said earlier, I'd be interested in checking-out the XSE V6 to see how much more enjoyable it is to drive but this 4-cylinder model is going to mostly impress its intended audience.