2018 NISSAN LEAF FIRST LOOK
2018 NISSAN LEAF FIRST LOOK BY AUTO CRITIC STEVE HAMMES
Did you know that the Nissan LEAF is the best-selling electric car of all time? Launched in 2010, the first generation model left me very impressed and now, Nissan is fortifying their position by giving the all-new 2018 model what everyone wants; a longer range at a lower price.
Offering 150 miles of driving at a starting MSRP of $30,875 before tax credits, the next-gen LEAF seats 5 and is sized similarly to the previous model, providing standard cargo room comparable to a Honda Civic Hatchback.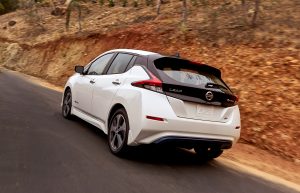 The new e-powertrain is rated at 147 horsepower and 236 lb-ft of torque providing improved acceleration. And with the LEAF's new e-Pedal technology, the brake gets put on the back burner.
This setup allows drivers to start, accelerate, decelerate and stop by increasing or decreasing the pressure applied to the accelerator. And when fully released, regenerative and friction brakes are applied automatically, bringing the car to a complete stop.
The other big tech breakthrough is called ProPILOT Assist, a semi-autonomous feature that essentially takes over the driving in specified conditions.  To activate the system, the driver simply pushes the blue ProPILOT Assist ON button.  Step two is to set the Intelligent Cruise Control when the desired speed is reached.  If the vehicle comes to a complete stop in a traffic jam situation for more than three seconds, the driver just presses the resume button or taps the accelerator pedal to begin moving again.
The completely redesigned cabin focuses on the driver with an easier to use infotainment system now featuring Apple CarPlay and Android Auto.  Level I, II and III charging is permitted ranging in time from 16 hours to as little as 40 minutes.
And for customers who want more performance, Nissan will also offer a higher power, longer range LEAF at a higher price in model year 2019.