2018 LEXUS LS FIRST LOOK
2018 LEXUS LS FIRST LOOK BY AUTO CRITIC STEVE HAMMES
One of the most intriguing debuts at the 2017 North American International Show is the all-new 2018 Lexus LS, the brand's global flagship sedan.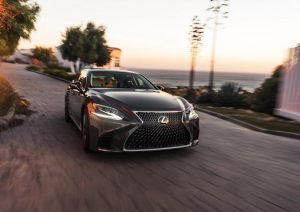 Its radical new design cuts a coupe-like silhouette while preserving the spaciousness of a prestige sedan.  Longer, lower, wider and more exciting, the new LS is built upon a premium rear-wheel drive platform shared with the new LC 500 coupe.
To create the all-new LS, Lexus took the approach of starting from new, reimagining what a flagship sedan should be, appealing to today's luxury sedan driver who demands greater handling agility and performance feel without sacrificing comfort. Helping to achieve that difficult balance is the latest generation chassis control technology.
Using lightweight materials to carve over 200 pounds from the current body along with the implementation of the new V6 engine and enhanced body rigidity allow for a more dynamic driving experience.  That twin turbocharged 3.5-liter motor produces 415 horsepower and 442 pound-feet of torque leading to a projected 0-to-60mph time of only 4.5 seconds.
A 10-speed automatic transmisison debuts.  Lexus tuned the exhaust note for a more authoritative tone yet also designed the cabin to ensure utterly quiet cruising.
Inside, Lexus sought to instill the new LS cabin with luxury that welcomes and envelops the occupants while treating the driver like a partner.  While making it more of a driver's car, Lexus also lavished attention to the rear seat with options for heating, cooling and massage.
Pricing will be announced closer to its on-sale date near the end of the year.