2016 VOLVO S60 T5 QUICK TAKES
TestDriveNow QUICK TAKES: 2016 VOLVO S60 T5 INSCRIPTION FWD OVERVIEW
For 2016, Volvo pushes the envelope for the S60 luxury sedan by introducing all-new premium Inscription models. For the first time customers have a choice of the popular standard length S60 lineup or new Inscription with its impressive three-inch stretch in wheelbase that delivers a class-leading 36.5 inches of legroom for rear seat passengers – three inches greater than the standard wheelbase models.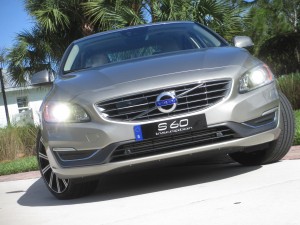 New S60 Inscription
The new Volvo S60 Inscription offers all of the safety, luxury and superb driving dynamics that buyers expect from the marque along with the ability for rear seat passengers to cross their legs and enjoy the ride like never before. Unlike larger long-wheelbase models from competitors, the S60 retains its nimble exterior proportions while continuing its heritage of highly attainable pricing.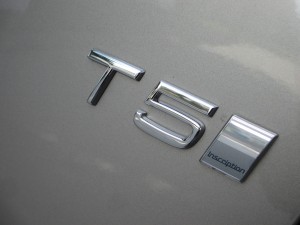 S60 T5 Drive-E Inscription features Volvo's acclaimed 2.0-liter 4-cylinder Drive-E turbocharged engine with 240 horsepower and 258 lb.-ft. of torque teamed with an efficient 8-speed "Geartronic" automatic transmission. The S60 T5 AWD Inscription is fitted with Volvo's 2.5-liter 5-cylinder turbocharged engine generating 250 hp and 266 lb.-ft., a 6-speed "Geartronic" automatic transmission, and sophisticated All-wheel Drive with Instant Traction™.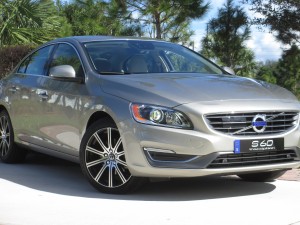 Standard feature highlights for S60 Inscription Premier and Platinum models include personalized power steering (FWD), speed-sensitive steering (AWD), 18-inch "Titania" diamond cut alloy wheels, rear park assist camera, rear park assist, contour seats with leather upholstery, Linear Walnut Wood inlays, interior accent lighting, Interior Air Quality System (IAQS), power rear window sunshade, rear side window sunshades, rear bumper chrome strip, chrome frame surrounding the Volvo Sensus display screen and air vents, a coat hanger in silk metal, LED license plate light, Inscription badge on the rear decklid, silk metal on power window buttons, additional sound deadening material, and Inscription door sill moldings.
S60 Lineup Features Volvo's Drive-E Technology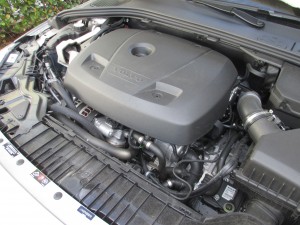 Developed in-house at Volvo's R&D department in Sweden, two versions of the innovative Drive-E 2.0-liter four-cylinder engine made their debut last year on front-wheel-drive S60 models. The S60 T5 Drive-E features a turbocharger and direct-injection to develop 240 horsepower and 258 lbs.-ft. of torque, with fuel economy mpg estimates of 25 city, 37 highway and 29 combined.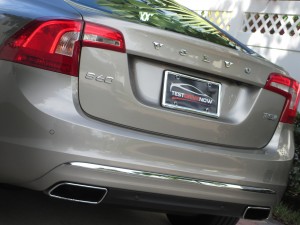 The next level of performance is offered in the S60 T6 Drive-E. Employing both a turbocharger and a supercharger for the 2.0-liter engine increases output to 302 horsepower and 295 lbs.-ft. of torque, while achieving mpg estimates of 24 city, 35 highway and 28 combined. The mechanically linked supercharger starts to function immediately at low revs while the turbocharger kicks in when airflow builds up. This combination provides seamless power delivery that feel like a larger, naturally aspirated engine with the benefits of greater fuel efficiency and reduced weight.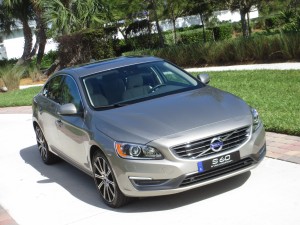 A standard eight-speed "Geartronic" automatic transmission contributes to the increased efficiency of this new engine family. Quiet, smooth shifts help to reduce noise at higher speeds while additional gears allow these engines to operate at peak efficiency for optimal performance and maximum efficiency. A start/stop feature automatically stops the engine when the vehicle comes to a stop to conserve fuel. The engine restarts when the driver releases the brake pedal.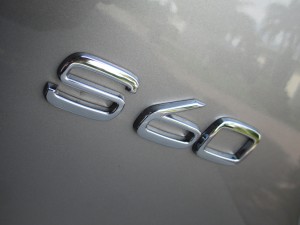 The third component of Drive-E is ECO+ fuel-saving technology designed to optimize shift points, engine control and throttle response. When activated by the driver, ECO+ is designed to help improve fuel economy by up to five percent depending on driving style, temperature and climate.
ECO+ functions include:
Start/Stop – The start/stop functionality is modified to allow the engine to shut down at 4 miles-per-hour (7 kph) as the car coasts to a stop.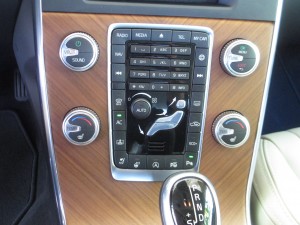 ECO-coast – Helps conserve kinetic energy by enabling the vehicle to coast. The engine "brake" is disengaged and engine speed drops to idle speed when pressure on the accelerator is released.
ECO-climate – The air conditioning compressor is disconnected to reduce auxiliary loads. Pressing the AC button restarts cooling or the driver can deactivate ECO+.
Experience Traction in Action with All-wheel Drive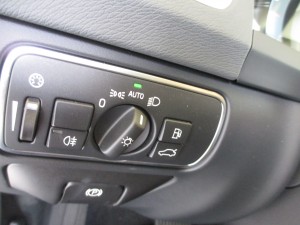 Volvo gives customers the choice of selecting the all-weather advantage of its signature All-Wheel Drive with Instant Traction™ across the S60 model range. The S60 T5 AWD is now offered in both standard and extended wheelbase Inscription models for 2016.
All-Wheel Drive with Instant Traction provides the best possible grip in all situations – on wet, slippery or completely dry roads. The advanced AWD system delivers power to the wheels with the best grip. When a tire loses traction, power is reduced to that wheel and instantly transferred to the more sure-footed wheels.
T6 AWD R-Design – The Pinnacle of Performance
Enthusiasts recognize the T6 R-Design as the ultimate performance S60. With the most powerful six-cylinder currently offered by Volvo, the R-Design's 3.0-liter turbocharged engine puts out 325 horsepower and 354 lbs.-ft. of torque. The R-Design is fitted with standard All-Wheel Drive with Instant Traction plus Corner Traction Control with torque vectoring.
R-Design's standard Sport Chassis continues to take it to the next level of performance. Volvo's chassis team fitted a strut brace under the hood that links the suspension strut towers to improve steering response. Front springs are shortened by 15mm to give it more visual attitude. At the rear, monotube dampers feature compression and return damping via the same valve for shorter, faster fluid-flow allowing the damper to respond more quickly.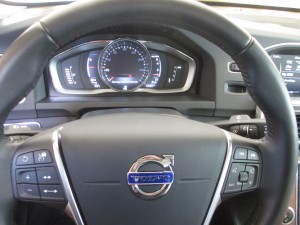 In keeping with its character as the sportiest and most dynamic Volvo, the S60 was the first carline to receive paddle shifters. Standard on T6 Drive-E and R-Design models and available on most T5s, paddle shifters let the driver shift manually with both hands on the steering wheel.
Advanced Quick Shift is designed to increase the S60's performance potential. When Sport Mode is selected or when using paddle shifters, software mapping improves gear change speed by 20-30 percent on third to sixth gears and up to 50 percent faster from first to second gear for quicker acceleration.
Steering Toward a Bright Future
Electrical Power Assist Steering (EPAS) on Drive-E models provides the latest technical innovations in both convenience and safety.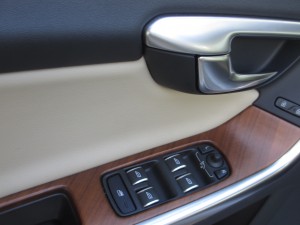 Park Assist Pilot, a semi-automatic parallel parking aid is optional for Drive-E models that requires the available Blind Spot Information Package (BLIS) Package. Utilizing front and rear park assist sensors and operational at speeds up to 18 mph, the system will identify an appropriate sized parking space and guide the driver through step-by-step instructions. The car will automatically control the steering function while the driver controls the brakes and transmission.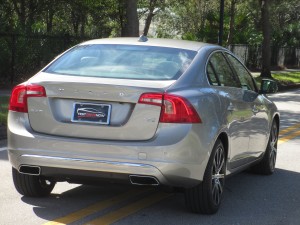 Lane Keeping Aid helps prevent accidents that may occur by unintentionally drifting out of a lane. The system, included with the Drive E's available Technology Package, uses the forward-looking camera to identify road markings. In situations where the car begins drifting out of the lane where the driver has not used the indicator to signal a lane change, the system applies steering torque to guide the vehicle back into the car's lane.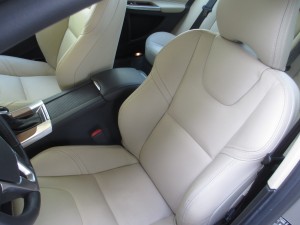 If the system is unable to keep the vehicle in its lane, the driver is warned by a haptic vibration through the steering wheel. In the event the detected lane change was intentional, the steering assistance is easily overridden by steering in the intended direction.
S60 Generates Visual Magnetism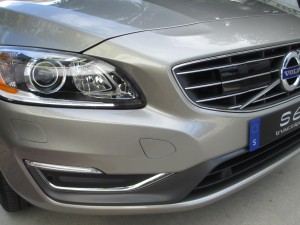 The front of the S60, redesigned two years ago, gained new exterior panels from the A-pillars forward including the hood, front fenders and fascia. Changes included a wider grille with a larger Ironmark, redesigned headlights, and a larger, wider lower front intake with bright accents and horizontally mounted LED daytime running lights. At the rear LED light guides on the taillights and integrated exhaust pipes contribute to the powerful road presence and self-confident stance.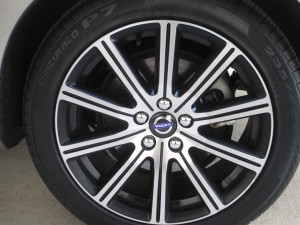 New S60 wheel designs for 2016 include standard 17-inch "Pallene" alloys for T5 Drive-E and AWD, optional 18-inch "Skadia," and 19-inch "Portia" diamond-cut alloys included with the Sport Package. New S60 exterior color choices include Magic Blue, Osmium Grey and Onyx Black.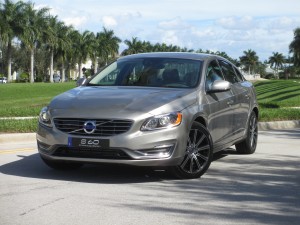 R-Design's sporty character is enhanced with color-matched body components, details in matte finish and a hexagonal pattern that is repeated both front and rear. Incorporated within a sporty rear exhaust baffle are distinctive 3 1/2-inch twin exhaust pipes. R-Design 19-inch "Ixion" alloy wheels are now standard advancing the model's sporty appeal.
Superb Luxury, Comfort and Convenience
Scandinavian design is exemplified by beautiful, simple shapes and surfaces with any unnecessary clutter removed. This is evident in the exterior and interior of the S60. Inside, the attention to detail, the authentic materials, such as wood and leather, and the easy to use controls contributes to the in-command driving experience.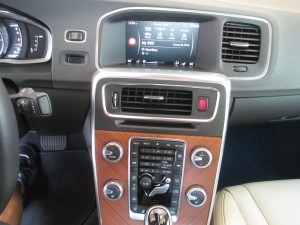 Instrument clusters help the driver stay informed of the S60's dynamic capabilities. The T5 features a contemporary analog cluster. An adaptive digital display is standard on T5 Premier plus T6 and R-Design models. The easy-to-read Thin Film Transistor (TFT) design allows drivers to select from three different themes: Elegance, Eco and Performance.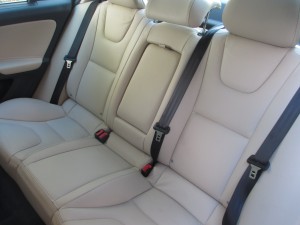 Volvo's long-standing tradition for providing supportive and comfortable seats to help reduce fatigue on long drives continues with sport seats, standard on T6 and available on T5. As the perfect addition to the in-command feel of a true driver's car, these seats provide added side support from the thighs to the shoulders to help keep the driver firmly in position in quick corners. Inscription models are fitted with standard Contour seats.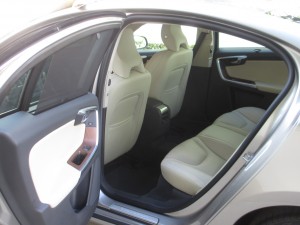 Inside the R-Design, the driver and front passenger sit in sport seats in which the highly supportive backrest is matched with a unique seat cushion with deeper side bolsters. The exclusive upholstery is Off-Black leather with contrasting stitching and sport-oriented texture accents with embossed R-Design logo across the front-seat backrests. The interior also features an R-Design sport steering wheel, gear selector, sport pedals, floor mats and adaptive digital display with R-Design graphics.
Enhanced and Advanced Technologies
S60 can be equipped with high-tech features including the top-flight Harmon Kardon Premium Sound System with 12 premium speakers and 650 watts, which is also standard on Platinum trims.
Customers have the flexibility to add option packages to any S60, as well as select individual options including heated front seats, keyless drive, and Piano Black or Urbane Wood inlays.
The T5 Sport Package includes larger 19-inch "Portia" diamond-cut alloy wheels, paddle shifters and Sport Chassis.
Additional features, included in the Convenience Package, standard on Platinum and available on all other trims, are Keyless Drive (standard on T6), rear park assist camera, HomeLink, grocery bag holder and power retractable outside mirrors.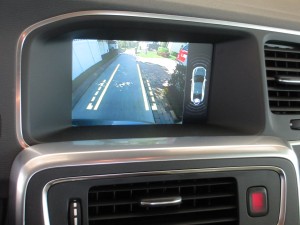 Available on all S60s is the Blind Spot Information System (BLIS) Package. This package includes BLIS, front and rear park assist, Cross Traffic Alert (CTA) and Lane Change Merge Aid (LCMA). The system is based on radar technology installed behind the rear wheels and will detect traffic from a longer distance than the previous BLIS system. This advanced technology has a much larger detection area proving the capability of informing the driver of rapidly approaching vehicles. LCMA utilizes two levels of LED lights mounted in the A-pillar. While CTA uses radar sensors in the rear bumper to monitor traffic when backing out of a parking space, warning the driver of approaching traffic via a visual alert and audio signal.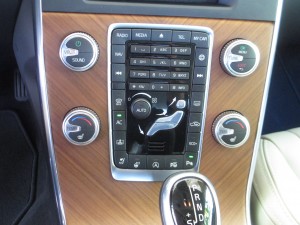 The Technology Package is also available (standard with the Platinum trim). Among its features, Cyclist Detection is included with Pedestrian Detection with Full Auto Brake. Active High Beam automatically switches the headlights to low beam when opposite traffic is detected. Road Sign Information (RSI) displays traffic speed signs for the driver on the instrument cluster based on the Forward Looking Camera (FLC). The package also offers Adaptive Cruise Control (ACC) with Queue Assist, Collision Warning with Full Auto Brake (CWAB), Distance Alert (DA), Driver Alert Control (DAC), Lane Departure Warning (LDW) with T5 AWD and T6 R-Design, and Lane Keeping Aid with Drive-E models.
Safety is a Way of Life for Volvo
The S60 represents the latest chapter in Volvo's pioneering and industry leading safety systems. Among its accolades, the Insurance Institute for Highway Safety (IIHS) recognized S60 with its newest and highest rating for 2014 and 2015, the Top Safety Pick+ award. IIHS created this award to recognize good or acceptable performance in the small overlap collision test. The S60 received the top good rating for this test.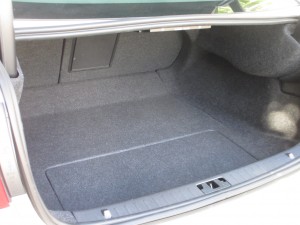 IIHS rates vehicles good, acceptable, marginal or poor based on performance in moderate overlap frontal crash, small overlap frontal crash, side impact and rollover, plus evaluations of seat/head restraints for protection against neck injuries in rear impacts. Top Safety Pick+ winners must earn good ratings for occupant protection in at least four of five evaluations, with no less than acceptable in the fifth test.
In addition, the S60 received the highest possible 5-Star Overall safety rating in the National Highway Traffic Safety Administration (NHTSA) crash testing. As part of NHTSA's New Car Assessment Program (NCAP), the Overall rating combines individual 5-Star ratings for separate frontal, side impact and rollover tests.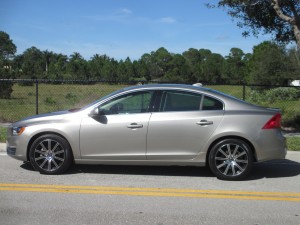 The S60's standard safety systems include City Safety, a world-first technology that made its debut on the Volvo XC60. City Safety is a driver support system aimed at preventing or mitigating collisions with a vehicle ahead occurring at speeds of 31 mph or less. It utilizes a closing velocity sensor to help determine whether a collision is likely. Depending on the closing speed, City Safety will either pre-charge the brakes or automatically brake the S60 to help avoid a rear-end collision or lessen its impact.
Sensus Advances In-Car Connectivity
All S60s are fitted with the Volvo Sensus system. Sensus manages information from the audio unit, navigation system (if equipped) and other functions, displaying them onto a seven-inch high-definition color screen in the upper part of the center console. It allows the driver to explore the high-tech features of the car and personalize them to suit his or her needs.
All S60s include Sensus Connect featuring a wide array of new and improved in-car connectivity services including:
A Volvo-unique cloud developed with Ericsson, a leader in mobile and fixed networking
Cloud-based apps including Stitcher, Pandora, Yelp, Glympse and more
Connected service booking
On-screen vehicle owner's manual
Internet browser
Connection achieved via internal modem, which includes 6-month trial service period
Improved voice control with state-of-the-art speech engine powered by Nuance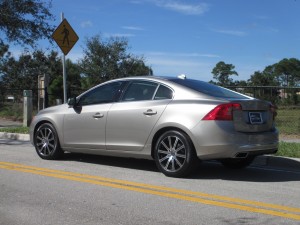 Volvo On Call is a standard sophisticated telematics system that includes a driver-activated SOS button, automatic collision alert and GPS location tracking by emergency service operators. If an airbag or seatbelt pre-tensioner is deployed, emergency assistance is notified even if the driver is unable to press the button. Convenience features such as engine remote start, trip log and send to car navigation directions are Volvo On Call features that can be accessed by utilizing the Volvo On Call smart phone app.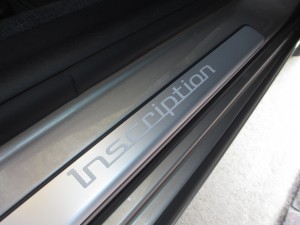 Wi-Fi Hotspot uses the standard 3G-based Volvo On Call plus the car's regular rooftop antenna giving the driver access to cloud-based Volvo services without an on-board smartphone. The driver can create a Wi-Fi hotspot inside the car so passengers can connect their smartphone, laptop or tablet to the Internet.
Sensus Navigation, standard on Premier and Platinum trims, Inscription, and all T6 models, integrates all navigation functions into the car. The system is easy to use, without taking one's attention from traffic. Unlike using a smart phone as a navigation device, the navigation screen is displayed on the standard in-dash 7-inch monitor. Sensus Navigation has improved graphics including 3D imaging, improved voice recognition, new routing options and built-in apps.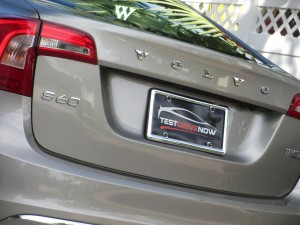 The Platinum trim level includes the Harmon Kardon Premium Sound System, also available on other trims as a stand-alone option. It features innovative Dirac Live® sound tuning technology, 12 premium speakers and 650 watts.
A standard high-performance audio system on base and Premier trims includes a CD player, HD Radio, AUX and USB inputs, MP3 capability, 160-watt amplifier and eight speakers. Also included is Bluetooth hands-free phone interface with audio streaming and Sirius Satellite Radio with a complimentary six-month subscription.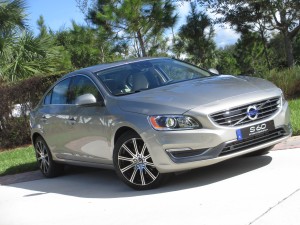 2016 VOLVO S60 T5 INSCRIPTION FWD: MSRP $ 38,700.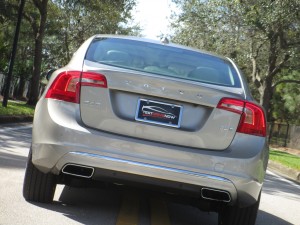 AS SHOWN  WITH PLATINUM PACKAGE; CLIMATE PACKAGE; PARK ASSIST PILOT with BLIS PACKAGE; and METALLIC PAINT: TOTAL PRICE $45,925.