2016 Jaguar XF FIRST LOOK
2016 Jaguar XF FIRST LOOK by Auto Critic Steve Hammes
Jaguar's lineup is truly taking shape, constituting compact, midsize and large sedans, a sports car and a crossover. The XF is the intermediate 4-door, reborn from the ground up for 2016 with the extensive use of lightweight aluminum, more interior space and a revised engine lineup.  A 2-inch longer wheelbase but shorter overall length creates more dynamic proportions while an evolved coupe-like profile with quarter windows allows for a clearer view out from the rear seats.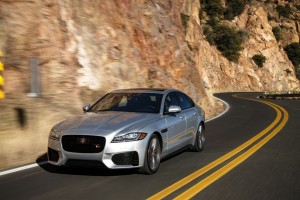 Weight is down by as much as 265 pounds on all-wheel drive models enabling a higher level of ride comfort and refinement combined with excellent agility and responsiveness.
Jaguar has engineered the chassis so that the XF is as satisfying to drive quickly as it is comfortable to be driven in.  All 8 XF trim levels run with a 3.0-liter supercharged V6 tuned for either 340 horsepower, or on XF S models, 380 horsepower.  Two different 8-speed automatic transmissions drive either the rear or all 4 wheels via a next generation torque on demand system.  The XF with the brawnier engine and all-wheel drive is capable of the fastest 0-60mph sprint of 5.0 seconds.
Optimum gas mileage is achieved with the rear drive model, rated at 20mpg city/30mpg highway.  On the infotainment front, the all-new XF is the first Jaguar to offer InControl Touch Pro – the most sophisticated system the company has ever developed, with the speed of a quad-core processor and the seamless integration of Apple and Android smartphones.
Pricing starts at $52,895 and tops out at $66,695 for a range-topping model.