2016 Chevrolet Volt FIRST LOOK
2016 Chevrolet Volt FIRST LOOK by Auto Critic Steve Hammes
Why is the Chevy Volt called an extended-range electric vehicle as opposed to simply a hybrid? Because its gasoline engine isn't used for propulsion; simply to act as a generator to recharge the battery once electricity is depleted. That range anxiety-killing principal continues here in the all-new, 2nd generation 2016 Volt – now with 53 miles of pure electric driving before a drop of gas is combusted.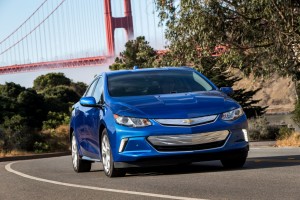 A new 2 motor drive unit saves weight and enables stronger off-the line acceleration providing 294 pound-feet of torque and 149 horsepower. The range extender, or gas engine is new, too; a 1.5-liter 4-cylinder running on regular unleaded, with a 101-horsepower output, rated at 42mpg. But with 80% of Volt owners completing their trips on electricity alone, you can expect to travel more than 1,000 miles between fill-ups. Of course, that means keeping the higher capacity yet lighter lithium-ion battery charged.
A simpler, more compact 120V portable cord allows the Volt to be plugged into any standard outlet, a process that takes about 13 hours. A Level-II, 240-volt charger reduces the charge time to 4.5 hours. Everything has been designed for easier use too including GPS location-based charging – helpful for places where utility rates vary by time of day. The new Volt now also offers 5-passenger seating with available heated rear seats. Available in base LT and Premier trims, the starting MSRP is $33,995.