2015 LINCOLN MKC QUICK TAKES
TESTDRIVENOW.COM OVERVIEW: 2015 LINCOLN MKC BLACK LABEL QUICK TAKES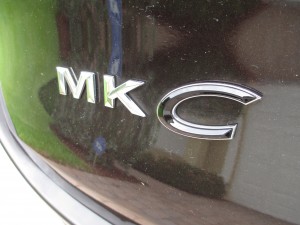 Black Label is Lincoln's most elevated expression of luxury and personal service. In addition to enjoying premium materials such as Venetian leather, Alcantara® and designer woods, Black Label customers also receive enhanced personal service such as remote vehicle-service calls, off-site concierge visits and membership privileges that include anytime car washes and exclusive dining experiences at upscale restaurants belonging to the Black Label Culinary Collection network.
The first-ever 2015 Lincoln MKC small utility is the second of four all-new Lincoln vehicles fueling the brand's reinvention
MKC introduced the all-new 2.3-liter EcoBoost® turbocharged four-cylinder engine producing 285 horsepower and 305 lb.-ft. of torque
Designed with driver comforts in mind and featuring an array of premium amenities, MKC targets a growing audience of luxury customers who demand a more personal car-buying and car-owning experience
The Lincoln Motor Company's reinvention took a major step forward with the unveiling of the first-ever 2015 Lincoln MKC small utility, which went on sale in May of 2014.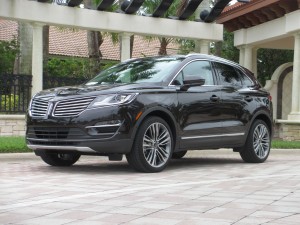 The Lincoln MKC is a unique creation from the ground up with an assortment of first-in-class features. Its all-new 2.3-liter EcoBoost® engine offers excellent performance while its ingeniously implemented wraparound liftgate is an example of masterful customer convenience.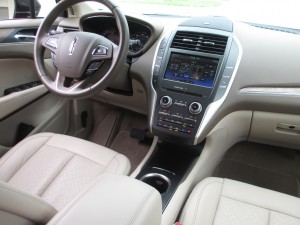 The luxurious interior embraces driver and passengers alike, and its new and innovative technology personalizes the MKC ownership experience. Lincoln MKC follows the MKZ sedan to become the second all-new Lincoln in as many years as the brand continues its reinvention.
Building the right vehicle at the right time
The Lincoln MKC – first introduced as a concept vehicle at the 2013 North American International Auto Show in Detroit – represents a critical milestone in the company's plan to expand its lineup.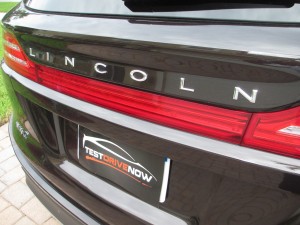 Arriving on the heels of the all-new and successful 2013 Lincoln MKZ sedan, the MKC became the second new vehicle in the brand's plans to introduce four new luxury vehicles by 2016.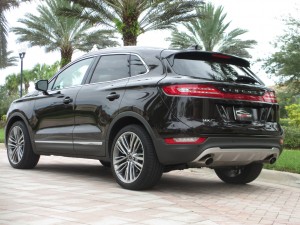 The MKC gives Lincoln a compelling offering in the small premium utility vehicle segment, the fastest-growing part of the luxury market. The segment has grown by 25 percent since 2012 and by more than 200 percent since 2009. The segment growth is being driven by new luxury buyers who are coming into affluence, as well as by current luxury owners who are moving from larger vehicles to smaller ones as their life desires change.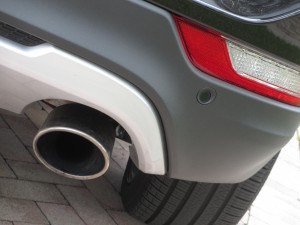 With the MKC, Lincoln continues its move toward targeting younger, more diverse customers. The vehicle also positions Lincoln to resonate with drivers in desirable markets on the East and West coasts.
Designed to inspire inside and out
The Lincoln design team faced the dual challenge of creating a standout vehicle in a competitive field, while further refining the Lincoln design DNA that started with the 2013 MKZ. From its signature split-wing grille to its uniquely crafted, hands-free wraparound liftgate, the Lincoln DNA is evident.
The MKC presents a sleek, sculpted body that helps it stand out among peers. Its high beltline and low shoulders create a sturdy, athletic presence, while features such as soft exterior lighting, pedestal side-view mirrors and an available panoramic, all-glass Vista Roof® give the vehicle a luxurious, sophisticated personality.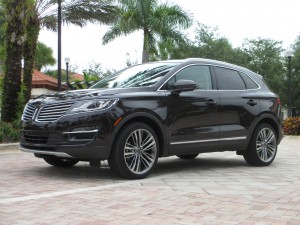 The unique design also carries through to the interior, where craftsmanship and high-tech combine to offer a warm, luxurious environment. An architecturally unique instrument panel showcases Lincoln's signature push-button gear shifter, which provides an open, inviting interior space. Plush leathers with French stitching, and available Bridge of Weir leather and real-wood trim accentuate the MKC's elegance and grace.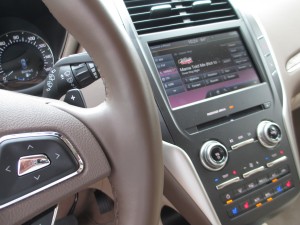 To be more consistent with the Lincoln driving experience, an all-new Lincoln steering wheel debuts on the MKC and will be available on all future Lincoln vehicles. This highly tactile leather-wrapped wheel provides better feeling and control and puts the brand's new design DNA in the driver's hands.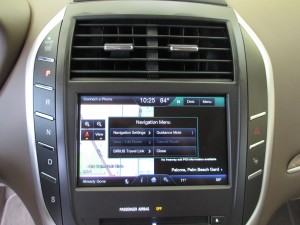 The enhanced THX® II Certified Audio System, an industry-first featuring THX-distributed bass technology and 14 right-, center- and left-slot speaker assemblies, is available. The state-of-the-art audio system delivers a rich, immersive surround sound experience that reproduces music as it was mixed in the studio.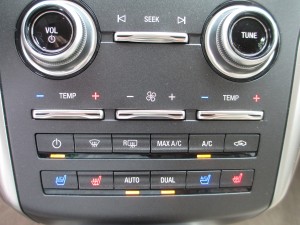 SYNC® with MyLincoln Touch™ enables drivers to personalize their MKC by using voice-activated commands or simple touch controls on the class-exclusive 8-inch touch screen. Knobs and buttons on the center console provide additional and easy access to control the air conditioning and sound system.
Lincoln luxury meets dynamic performance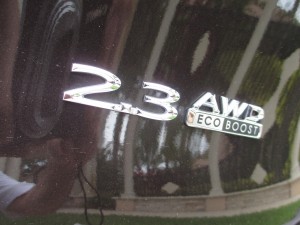 When equipped with the all-new 2.3-liter EcoBoost engine, the MKC offers 285 horsepower at 5,500 rpm and 305 lb.-ft. of torque at 3,000 rpm. Class-exclusive Active Grille Shutters are designed to help improve fuel efficiency at highway speeds.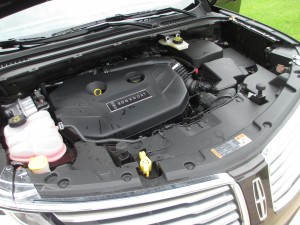 The MKC comes standard with a 2.0-liter EcoBoost four-cylinder turbocharged engine, which produces 240 horsepower at 5,500 rpm and 270 lb.-ft. of torque at 3,000 rpm. This makes Lincoln MKC an all-EcoBoost vehicle.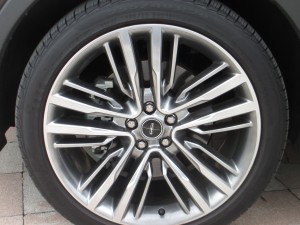 The MKC comes standard with front-wheel drive and 18-inch wheels. Drivers can upgrade to Lincoln's Intelligent All-Wheel Drive and 19-inch wheels for enhanced cornering and handling and an even sportier look.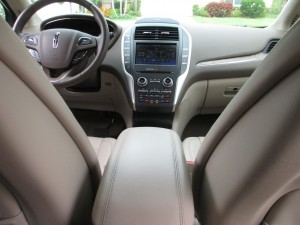 The Intelligent All-Wheel Drive system also includes continuously controlled damping. Drivers can use Lincoln Drive Control to select from sport, comfort and normal drive modes to cater to their driving mood. CCD constantly monitors the road; the suspension reacts on average within 20 milliseconds, providing a smooth ride with enhanced handling. CCD also is available in the standard front-wheel drive configuration of MKC.
Technology provides protection, confidence
The MKC offers advanced technology such as collision warning with brake support, a Lane-Keeping System and driver assist to help drivers avoid common accidents. The collision warning system is designed to alert the driver if it detects a potential front-end crash. The system issues an audible alert in the cabin, a visual alert on the windshield and automatic brake assist sensitivity.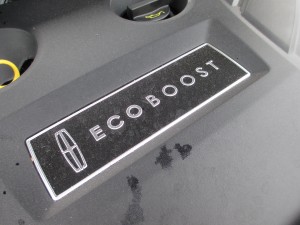 The MKC introduces available park-out assist technology, a class-exclusive feature that enhances the vehicle's active park assist capabilities. Where active park assist helps guide drivers into tight parallel parking situations, park-out assist steers drivers out of tight parking spots.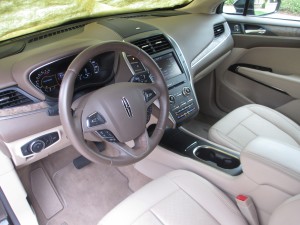 The vehicle's Lane-Keeping System uses rearview mirror-mounted cameras to identify lane markers and help drivers avoid unintentionally straying from their lane.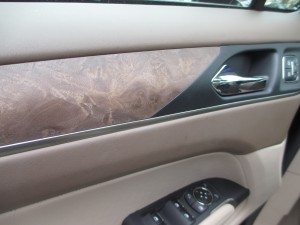 If the system detects a driver's alertness level dropping below a given threshold, a warning is issued via a chime and a pop-up message appears on the left-hand cluster screen.
The MKC also offers a Blind Spot Information System, which continuously monitors the vehicle's blind spots with radar sensors, and class-exclusive cross-traffic alert, which detects traffic as the vehicle backs from a parking space.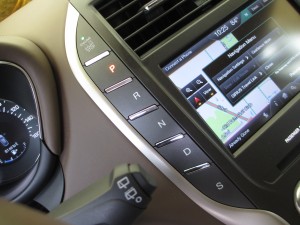 Driver confidence and safety is furthered by the inclusion of seven standard airbags, including a class-exclusive driver's knee airbag. In preparing MKC for the road, the vehicle was subjected to 5,000 virtual and real-world crash tests and a variety of conditions.
Experience Lincoln's uniquely warm reception
The MKC greets owners with exclusive Approach Detection, which senses when an owner is near and responds by illuminating "welcome mats" on the ground next to both front doors. Simultaneously, headlamps, taillamps and door handles glow with soft lighting tuned to complement the vehicle's exterior color.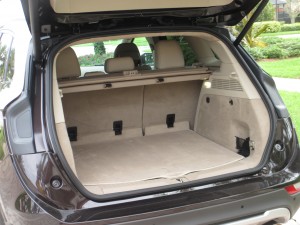 The MKC is the first Lincoln to have always-on built-in connectivity, allowing owners to utilize a smartphone app to control the vehicle. With the MyLincoln Mobile™ app, MKC owners can start, lock, unlock and locate the vehicle, as well as schedule a remote start event for a set time.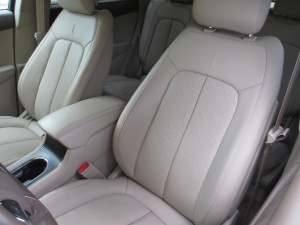 Drivers also can use the app to place a call for roadside assistance, monitor the vehicle's fuel level, check tire pressure and battery status, and program engine start times to allow the vehicle to heat or cool to comfortable levels.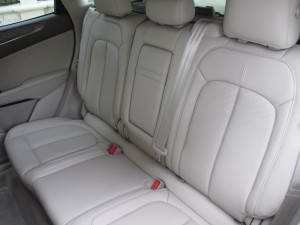 The Lincoln MKC is produced at Louisville Assembly Plant in Louisville, Ky. Since reaching showrooms during the summer of 2014, the MKC has earned praise from drivers and critics alike. Kelley Blue Book recently named it one of the 10 Best Luxury SUVs, and the Texas Auto Writers Association named it Crossover Utility Vehicle of Texas and Luxury Crossover Vehicle last fall.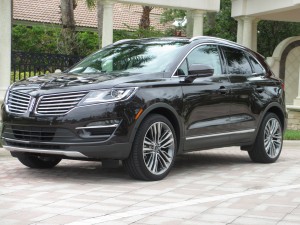 2015 LINCOLN MKC BLACK LABEL TESTDRIVENOW.COM QUICK TAKES MSRP $48,700.00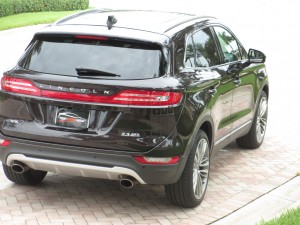 As shown with optional equipment and other Black Label features:   TOTAL MSRP$57,500.00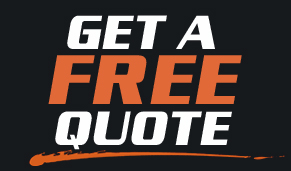 CLICK HERE TO FIND YOUR NEXT NEW OR USED CAR, TRUCK OR SUV. Get a FREE ONLINE PRICE QUOTE FROM A DEALER NEAR YOU. ABSOLUTELY NO OBLIGATION TO BUY.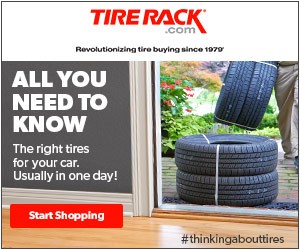 CLICK HERE TO FIND THE BEST DEAL ON TIRES FOR EVERY MAKE AND MODEL CAR, TRUCK OR SUV. SPECIAL DISCOUNTS FOR TESTDRIVENOW FANS.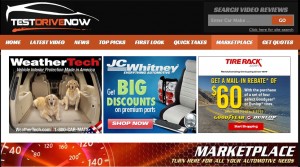 CLICK HERE TO FIND TODAY'S HOTTEST DEALS FOR ALL YOUR AUTOMOTIVE NEEDS.

CLICK HERE to LIKE TestDriveNow.com on FaceBook!

FOLLOW Steve Hammes on Twitter @DriveTimeVideos!
Tagged with:
2015
,
BLACK LABEL
,
crossover
,
latest video
,
Lincoln
,
Luxury
,
MKC
,
OVERVIEW
,
quick takes
,
small suv
,
SUV