2015 Chevrolet SS VIDEO REVIEW
2015 Chevrolet SS VIDEO REVIEW by Auto Critic Steve Hammes
Hanging on but seeing its dominance decline, the traditional 4-door sedan is in a turf war with the crossover utility vehicle. But if you still prefer a "car" with some size to it, that's rear-wheel drive, with a former Corvette engine oh, and a stick shift – the choice is down to one. This is the 2015 Chevy SS.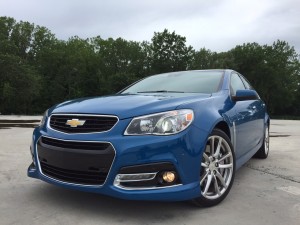 Finding an honest to goodness large car in the blue-collar segment is tough enough nowadays, much less if you desire attributes such as rear-wheel drive, a V8 and let's not get crazy now; a manual transmission.  If that's the car you're after, look no further.  Now that Chevy has added the no-cost option of a 6-speed manual, the SS is really in a class of its own.  Well, there is a cost associated with the stick shift but it's in your favor in a couple of ways.  Because it returns 1mpg better in city driving than the 6-speed automatic it avoids the $1,300 gas guzzler tax levied on that car.  So it's a win-win situation and to complete the trifecta of the no-brainer choice, the stick makes the SS exponentially more fun to drive.
My first couple of SS test-drives left me feeling a bit emotionally detached from the car…both had automatic transmissions. Now I'm not one to say stick shift or bust, but in this case I'd have my SS no other way. This V8 was just made to have a 6-speed manual working it. It concentrates this car's flavors and results in a more fun and engaging experience. And the sounds are small block Chevy perfection.
Yet another perk is the more aggressive, shorter gearing for the final drive making it even faster than the 5.0-second 0-to-60mph time of the automatic.  There are 415 horsepower and an equal amount of torque on tap, so blistering acceleration is an SS hallmark and the manual gives you a better tool to extract the fun.  It's easy to operate too so it never feels like work though the clutch pedal is long on travel and a bit springy on the uptake, taking a little time to acquaint yourself.  The StabilliTrak system has 3 modes with full off, permitting as much wheel spin as you wish.  In a sea of conservatively tuned, V6-powered sedans, the SS is a true stand-out.  The last of the LS3-powered GM cars, the 6.2-liter V8 starts and idles with attitude, gently vibrating its power through the cabin and producing a distinctly throaty Chevy sound.  The use of an aluminum hood and rear deck lid, nearly 50/50 weight balance, a limited slip differential, and legit staggered width Bridgestone summer use tires contribute to the car's exceptional big car handling and tenacious grip.  Buy the key to making the SS a performance sedan you can happily live with every day is the Magnetic Ride Control shocks, now standard for 2015.  With Tour, Sport and Performance modes, these dampers work their magic through a host of GM vehicles, each time significantly contributing to the car's appeal.  Smooth as butter over rough surfaces yet tight in the curves, the SS can be driven though a wide dynamic range, displaying skill throughout.  It's a quiet highway cruiser, a hot rod and a nimble handler all rolled into one…you could think of it as a premium 4-door Camaro SS.  Another change this year is the addition of Brembo brakes on the rear as well as at the front.
Helping exude some personality from the understated SS design is this new Perfect Blue paint, one of 5 new colors including green and even purple.  Most people still don't know about this car as it gets no marketing dollars and as such I was asked a number of times if it was a Malibu or an Impala so it definitely could use a shot of its own personality.  The interior shows similar restraint with a competent, quality-driven design integrating tasteful leather, suede and metallic elements showcasing some class while the feature laden and easy to use MyLink touchscreen system now adds OnStar 4G LTE with Wi-Fi hotspot. It's American-sized and very comfortable for 4 but a large drivetrain hump makes the center rear position a splay-the-legs situation.  And the trunk is even bigger than the Dodge Charger's.  Notable features include a host of camera-based safety features like Forward Collision and Side Blind Zone Alert and a nifty parking assistant that steers the car perfectly and easily into a parallel or perpendicular parking space.  There's also a heads-up display.
Imported from GM's Australian-based Holden unit which is winding down production, the SS isn't likely to last, at least not like this, past 2017.  Just like another Holden sourced car, the last Pontiac GTO, the styling of the SS still seems a bit off.  Either way, it's a niche car for a very specific buyer but one that can be a very satisfying choice for the non-conformist.  Other than the sunroof, everything is included in one tidy trim for an as tested price of $47,640.  Gas mileage is rated at 15mpg city/21 mpg highway on recommended premium.

FOLLOW Steve Hammes on Twitter @DriveTimeVideos!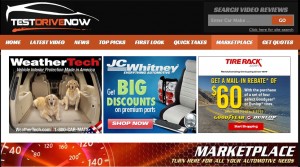 CLICK HERE TO FIND TODAY'S HOTTEST DEALS FOR ALL YOUR AUTOMOTIVE NEEDS.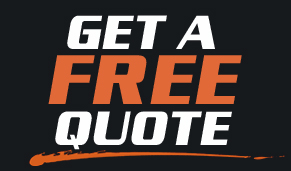 CLICK HERE TO GET YOUR FREE ONLINE PRICE QUOTE FOR YOUR NEXT NEW CAR FROM A DELAER NEAR YOU. ABSOLUTELY NO OBLIGATION TO BUY!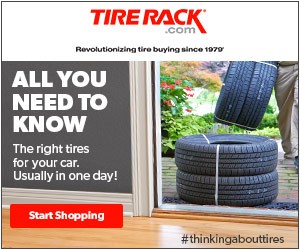 CLICK HERE TO FIND THE BEST DEAL ON TIRES FOR EVERY MAKE AND MODEL CAR, TRUCK OR SUV. SPECIAL DISCOUNTS FOR TESTDRIVENOW FANS.

CLICK HERE to LIKE TestDriveNow.com on FaceBook!
Tagged with:
2015
,
auto critic
,
camaro
,
Chevrolet
,
Corvette
,
Impala
,
latest video
,
Malibu
,
reviews
,
road test
,
SS
,
steve hammes
,
test drive