2014 Ford Fusion Titanium AWD QUICK TAKES
2014 Ford Fusion Titanium AWD QUICK TAKES
For handling on all conditions – from paved roads and dirt to snow-covered as well as rain-slick surfaces and more.
The AWD System uses an electronically variable clutch.
While the AWD System provides a significant enhancement in inclement weather, the system on the Fusion was carefully tuned to improve handling.
The control system does control slip if it manages to occur, but acts primarily in a "preemptive" manner to attempt to stop it from happening in the first place.
AWD constantly adjusts its torque split depending on what the driver is doing, looking at throttle position, speed, the type of turn the vehicle is encountering and more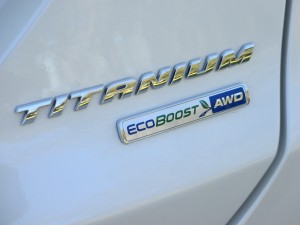 Equipment Group 300A
• 2.0L EcoBoost® I-4 Engine
• 6-Speed Automatic Transmission with Paddle Shifters
• Intelligent Access with Push-Button Start
• Audio System from Sony® with 12 Speakers and HD Radio™ Technology
SYNC® Services with MyFord Touch®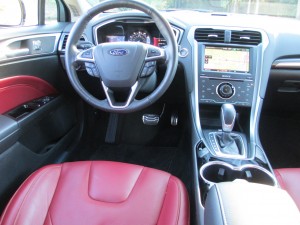 Hands-free calling means you never have to miss a call. If your phone rings, you can answer with the push of a button, and you can make a call with the sound of your voice.
• Just plug in your compatible digital music player, USB drive or SD card and browse your music collection using voice commands.
• Say "Bluetooth® audio" and you can listen wirelessly to whatever's on your phone, even Pandora® internet radio.129
• Stay connected and you could have your incoming texts read to you with audible text messaging.
• Voice/touch climate control means you can just tell SYNC with MyFord Touch your preferred temperature and it will adjust to suit you.
• Two screens (depending on the model) on either side of the instrument cluster let you see key features without taking your eyes off the road.
• 911 Assist® can use your connected mobile phone to call 911 when you can't.28
And that's just for starters.
Sport leather-trimmed seats and heated front seats with driver's seat memory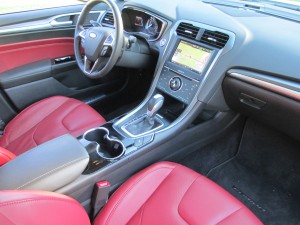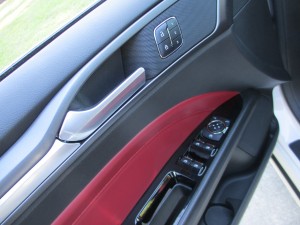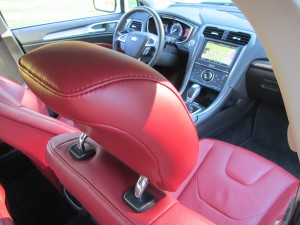 Leather-trimmed, heated front bucket seats, a driver's seat with three memory settings and a 60/40 split rear seat are standard in Fusion Titanium and are available in the Fusion SE with the Luxury Package. Titanium sport seats shown.
New colors inside and out
Since its debut at the 2012 North American International Auto Show in Detroit, the new Fusion has been acclaimed as a design leader in the midsize sedan segment and honored with numerous awards including Autoweek magazine's Best in Show and the EyesOn Design Award for Design Excellence – Production Vehicle.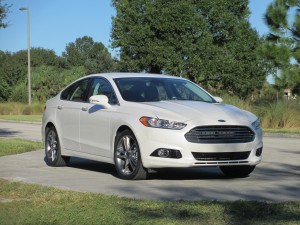 For 2014 several new color combinations are available starting with two new exterior colors, Dark Side and Sunset. Fusion SE customers who prefer the carryover Sterling Gray exterior can opt for the Dune interior with either cloth or leather seating surfaces. The new Interior Appearance Package for Fusion Titanium includes premium leather seating surfaces and vinyl door inserts finished in Brick Red along with premium floor mats.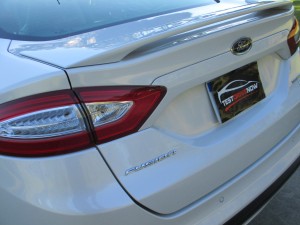 No matter what the climate, Fusion helps to keep things comfortable in the cabin. Titanium customers can add cooled seats for the driver and front passenger for those steamy summer days. When the temperature drops, the available heated steering wheel will keep the driver's fingers warm. Fusion SE drivers who get the Luxury Package can now open doors and start the engine without reaching for a key thanks to Intelligent Access with push-button start.
Helping to keep passengers safe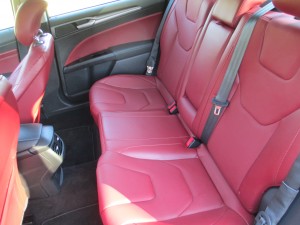 Safety experts acknowledge that the back seat is the safest place for children and Ford is committed to keeping all vehicle occupants safe. The optional inflatable rear seat belts that Ford debuted on the 2011 Ford Explorer are now available on Fusion for the first time. In the event of a collision the rear belts inflate, distributing the load over a larger area and reducing the risk of abdominal, chest and shoulder injuries for rear passengers.
More choice of power
"EcoBoost is a technology that's really resonating with customers around the world and especially in the United States," said Joe Bakaj, vice president of powertrain engineering. "Since introducing EcoBoost to the respective lineups, more than 40 percent of F-150, 51 percent of Fusion and nearly 90 percent of Escape vehicles have been sold with one of these advanced engines."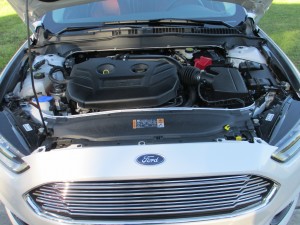 The 1.5-liter is the fifth member of Ford's family of fuel-efficient EcoBoost engines. Like the other engines in the lineup, this new powerplant features turbocharging, direct gasoline injection and twin independent variable camshaft timing. The 1.5-liter also adopts several design features that debuted on the award-winning 1.0-liter three-cylinder EcoBoost engine coming to the 2014 Ford Fiesta.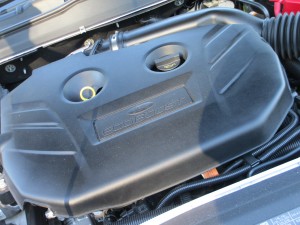 Just as with the 1.0-liter, the engineers focused on reducing internal friction and weight of the 1.5-liter while improving specific output.
Reducing unnecessary work has been a major focus on all Ford vehicles in recent years, and the 1.5-liter EcoBoost adds a major new innovation with a clutched water pump. Instead of pumping coolant through the engine continuously even when it is cold, this is the first Ford engine that decouples the water pump until it is needed. This enables the engine to warm up faster for reduced cold-start emissions and fuel consumption and more comfort on cold winter mornings.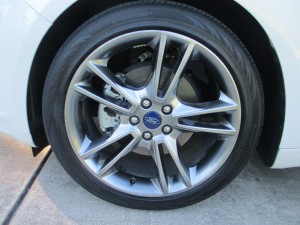 Like the 1.0-liter, the new 1.5-liter EcoBoost engine features a water-cooled, integrated exhaust manifold. Casting the cylinder head and exhaust manifold as a single unit reduces overall weight, simplifies assembly, and gets the turbocharger closer to the exhaust ports for improved responsiveness. Integrating the manifold also enabled the engineers to run cooling circuits alongside the hot exhaust passages, further speeding warm-up.
A liquid-cooled charge air cooler on the 1.5-liter further simplifies the engine packaging while shortening the path from the turbocharger to the cylinder for improved response when the driver presses the accelerator pedal.
Even with a smaller displacement, the 1.5-liter engine is projected to deliver approximately the same power and torque as the 1.6-liter in the 2013 Ford Fusion, while improving fuel economy and providing improved driveability.
Three EcoBoost® Engines
1.6L EcoBoost engine, coupled with six-speed manual transmission
1.5L EcoBoost engine, coupled with standard six-speed automatic transmission
2.0L EcoBoost engine, coupled with six-speed automatic transmission with paddle shifters
To help enhance fuel efficiency and reduce emissions, Auto Start-Stop, available with the 1.5L EcoBoost engine, shuts off the engine when the vehicle stops and seamlessly restarts the engine when you take your foot off the brake
More grip for enthusiast drivers
S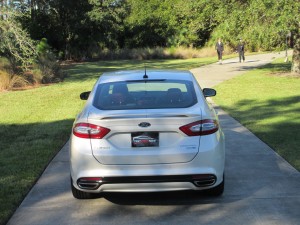 ince its debut in 2012, the Ford Fusion has been widely praised by reviewers and customers for its outstanding driving dynamics including excellent balance between ride quality and handling, as well as exceptional steering feel. For 2014 enthusiast drivers can up the ante with an optional summer-only tire package with 19-inch alloy wheels.
The Ford Fusion is produced at Ford's Hermosillo, Mexico, manufacturing facility, soon adding production at Flat Rock Assembly Plant in Flat Rock, Mich.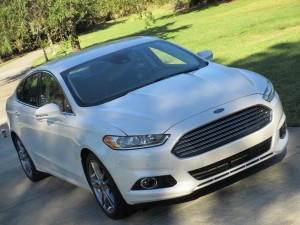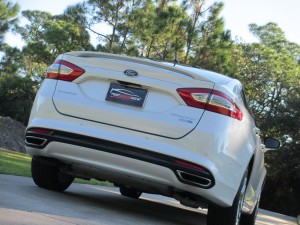 2014 Ford Fusion Titanium AWD QUICK TAKES TOTAL MSRP AS SHOWN: $39,950.00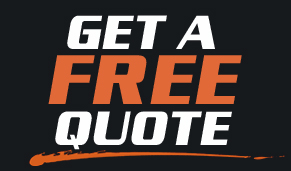 CLICK HERE to get a FREE ONLINE PRICE QUOTE for your NEW FORD from a dealer near you. Absolutely NO OBLIGATION.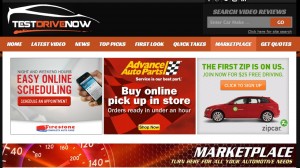 CLICK HERE TO FIND TODAY'S HOTTEST DEALS! TURN HERE FOR ALL YOUR AUTOMOTIVE NEEDS AND MORE.

CLICK HERE to LIKE TestDriveNow.com on FaceBook!

FOLLOW Steve Hammes on Twitter @DriveTimeVideos!