2014 Cadillac CTS Vsport Video Review
2014 Cadillac CTS Vsport Video Review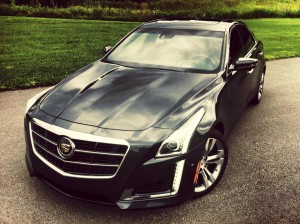 Whatever preconceived notions you may have had about the Cadillac brand and its target demo should have been dispelled already.  But if you need even further convincing that this isn't your grandfather's Cadillac, well this car is it. This week I'm test-driving the new CTS Vsport.
When it comes to the letter V, things just got a bit trickier in the Cadillac showroom.  2014 models still exist of the CTS-V Coupe, Sedan and Wagon but those are not this.  Vsport is a middle ground that offers high-performance gear without the racetrack-ready regalia.
And this CTS walks that fine line beautifully, thrusting you deep into the Kona brown, soft leather seats with astonishing ease and firmly adhering to the curvy road yet surrounding you in the level of luxury expected from Cadillac. The Vsport's outward appearance does little to distinguish itself from its less endowed brothers so in that regard it's a bit of a sleeper.  But with a pair of turbochargers added to the 3.6-liter V6 contributing over 100 horsepower, raising output to 420 and boosting torque to 430 pound-feet, the CTS Vsport is not the car to mess with at a stoplight.  A solid 0-to-60mph time in the mid 4's and a ¼ mile at 13 seconds is impressive enough but it's the Vsport's expert handling and Magnetic Ride Control shocks that provide the real magic.
Various drive modes take you from Tour to Sport to even Track, each one adjusting the steering rate and damper settings accordingly yet all of them maintain a sublime ride quality.  The brand's first 8-speed auto with long, shiny paddle shifters is here too, contributing to performance and economy, netting me the EPA combined rating of 18mpg for the week on premium unleaded. Beyond the obvious added power from the twin-turbos I'd say the most tangible differences between the Vsport and the 2.0T model I last tested lie in this car's quicker steering which also provides lots of feedback can feel a bit twitchy on these aggressive Pirelli tires.  Now, the enhanced spring rates and beefier stabilizer bars also give the Vsport flatter handling and an electronic limited slip differential helps thrust you out of the turns but it's not hardcore.
However it is the CTS you'll want if you like your ride with a certain edge. On the other hand, this isn't the Caddy for you if you're a technophobe.  I've backed off my earlier assertions that CUE was quite brilliant…well, it is brilliant but it's frankly just too much, especially as it pertains to the configurable gauge cluster which is the poster child for driver distraction.  I also experienced a huge glitch at one point leading to a complete system shutdown.
From a safety standpoint, I love the multi-information heads-up display, the automatic seat belt tightening which bear hugs you shortly after takeoff and the Safety Alert Seat which directionally vibrates to warn of dangers.  There's Automatic Parking Assist but it does parallel spots only and not perpendicular. The look is quite pleasing, with the optional natural Elm wood trim matching to the Kona leather and black accents.  There's even a mechanized leather trimmed cover over the cupholders. All told, the interior is spot on and accompanies Caddy's evolving Art and Science theme quite well.
Available in 2 trims and exclusively rear-wheel drive, the Vsport starts at around $60,000 while this higher level Vsport Premium is priced as tested for $71,645 and it includes every amenity under the sun with the exception of performance brake linings for the Brembos – a $100 option.  Beware though if you're a frequent back seat user because 1) they're a little cramped in every measurement and 2) engineers angled the seat bottoms with a deep recess to increase leg room.  That's a problem for kids and they're not that comfy for adults either.
The CTS has grown in length, reduced its ride height and weight and now with the Vsport, gives shoppers an even more athletic model without venturing into gas guzzling V8 territory.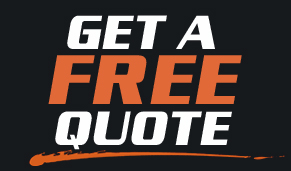 CLICK HERE to get a FREE ONLINE PRICE QUOTE for your NEW CADILLAC from a dealer near you. Absolutely NO OBLIGATION.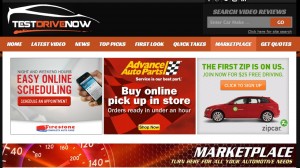 CLICK HERE TO FIND TODAY'S HOTTEST DEALS! TURN HERE FOR ALL YOUR AUTOMOTIVE NEEDS AND MORE.

CLICK HERE to LIKE TestDriveNow.com on FaceBook!

FOLLOW Steve Hammes on Twitter @DriveTimeVideos!