Sensational Supercars Led The Finale At Barrett Jackson Palm Beach Auction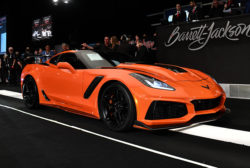 TDN News: Sensational Supercars Led The Finale At Barrett Jackson Palm Beach Auction
Some big sales, exciting moments and enthusiastic crowds made for a great Super Saturday at the 17th Annual Barrett-Jackson Auction!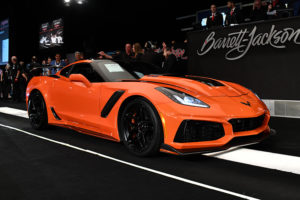 Cody Walker, brother of the late Paul Walker of "Fast and Furious" fame, was in the house to help sell an incredible 2010 Ford Mustang AV-X10 Custom Coupe known as the "Dearborn Doll" to benefit Reach Out WorldWide (ROWW) the charity Paul established back in 2010 to help in relief efforts around the globe. For a winning bid of $90,000 – 100 percent of which goes to ROWW – the WWII-themed beauty is headed off to its new home. 
The last of the more than 600 incredible collector vehicles made their way across the stage today, with 14 additional record sales logged, including today's top seller – a stunning custom 1947 Buick Super 8 convertible for $412,500 – as well as a 1986 Dodge Conquest, a custom 1998 Jeep Wrangler and a 1993 Ford Mustang Cobra R, underscoring the continuing trends of Resto-Mods and future classics from the '80s and '90s. The crowd in the auction arena went wild on a number of occasions, the first of which was when the late Dale Earnhardt's #8 Chevy Nova Race Car roared onto the block – and they went even wilder when the car sold for $209,000.
The other big stars of the show that ended up in today's Top 10 included a 2012 Lexus LFA ($352,000), a 2018 McLaren 720S ($324,500) and a 2017 Rolls-Royce Silver Dawn convertible ($297,000). A 2017 Dodge Viper ACR and a custom Chevrolet Bel Air each brought in winning bids of $286,000.
The morning's Automobilia Auction also saw some impressive sales, with a spectacular Dog N Suds animated neon sign from the 1950s the big winner, with a bid of $19,550 taking it home. An incredibly detailed Polly Gas service station island – complete with a clock-face gas pump, vintage trash can and event an attendant – sold for $14,950. A coin-operated kiddie ride also ended up in the Top 10 for the day: a Sandy the horse model from the 1950s.