ALL-NEW 2015 VOLKSWAGEN GOLF GTI ARRIVES IN U.S. DEALERSHIPS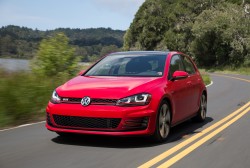 Herndon, VA (May 30, 2014) — Volkswagen of America, Inc. today announced the official arrival of the all-new 2015 Volkswagen Golf GTI in U.S. dealerships, as the first customer deliveries start nationwide. Building on the iconic performance and style of the original hot hatch, the new GTI is bigger, safer, lighter, more powerful and fuel-efficient than its predecessor.
"The seventh-generation Golf GTI has been one of the most-highly anticipated new models of the year, and we're excited about the response we're getting from customers as it arrives in dealerships," said Mark Barnes, Vice President, Sales, Volkswagen of America. "The GTI continues to be one Volkswagen's best-selling vehicles worldwide, and we hope to excite our current fans while winning over new ones with the new GTI's performance and versatility."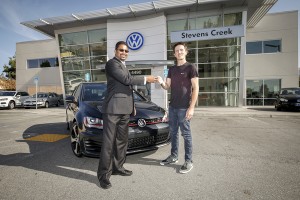 Volkswagen delivered one of the first new GTIs to Karoly Gyetvai at Stevens Creek Volkswagen in San Jose, Calif. over Memorial Day weekend. As a thank you, Volkswagen is giving Mr. Gyetvai a $500 Shell gas card and a GoPro HERO3+ Black Edition camera to capture and share his unique GTI moments. In celebration of the car's launch, Volkswagen will offer free GoPro cameras to customers who purchase or lease the 2015 GTI by June 30, 2014.
"I owned a 2010 GTI and loved it, so I couldn't wait for the 2015 version. I tested several other cars before purchasing the GTI, and nothing else compared to its performance, style and value for the money," said Mr. Gyetvai. "I am an avid mountain biker, and the 2015 GTI has the cargo space I need for all my gear, combined with awesome performance and a more sophisticated interior design."
The new GTI redefines the hatchback category with enough space for five adults and more trunk space than any U.S. mid-size sedan. It also features Volkswagen's EA888 2.0-liter turbocharged and direct-injection TSI® engine, providing 210 horsepower and 258 pound-feet of torque, which is 10 hp and 51 lb-ft higher than in the previous generation.
Standard equipment of the all-new GTI also includes a new Driving Mode Selection feature, VW Car-Net® connected services, a touchscreen infotainment system, a leather-wrapped multifunction steering wheel, ambient and footwell lighting with LED reading lights, and LED foglights.
Pricing for the all-new Golf GTI starts car starts at $24,395 for the entry-level S trim in two-door form with six-speed manual transmission, an increase of just $195 over the base price of the previous model.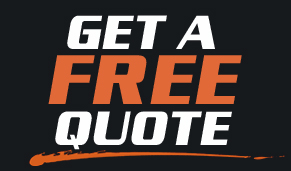 CLICK HERE to get a FREE ONLINE PRICE QUOTE for any NEW VOLKSWAGEN from a dealer in your area. Absolutely NO OBLIGATION. 

CLICK HERE to LIKE TestDriveNow.com on FaceBook!

FOLLOW Steve Hammes on Twitter!