MERCEDES-BENZ MOST AFFORDABLE CONVERTIBLE ARRIVES THIS FALL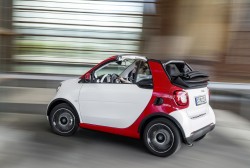 MERCEDES-BENZ MOST AFFORDABLE CONVERTIBLE ARRIVES THIS FALL
Meet the all-new smart fortwo cabrio
Mercedes-Benz USA today announced pricing for the 2017 smart fortwo cabrio. Arriving in U.S. dealers this fall, the smart fortwo cabrio will start at just $18,900, launching as the most affordable convertible on the market. A twinamic dual-clutch automatic transmission-equipped smart fortwo cabrio starts at $19,890.*
The introduction of the all-new smart fortwo cabrio represents the most expressive variant of the new model series. Last offered as a 2015 model, the new smart fortwo cabrio is the only convertible priced under $20,000 available in the United States. Customers can now park virtually anywhere and navigate narrow or city streets and highways effortlessly, all while enjoying the cabriolet lifestyle at an affordable cost.
The open-top two-seater is three cars in one: at the touch of a button the new smart cabrio is transformed from a closed two-seater into a car with a large sliding canvas sunroof, or a full-fledged cabriolet with the soft top completely open. This enables the fresh air driving experience to be adapted to the weather or the driver's mood. This flexibility offered by the "tritop" folding soft top and the removable roof bars is a special class-leading feature. At the same time, the new smart cabrio remains the only true cabriolet in its vehicle class.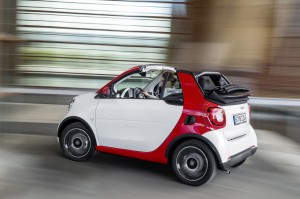 Offered in passion, prime and proxy trims, the new cabrio will offer convertible soft-tops in black and dark red at no extra cost. Quick and convenient to operate, the new power soft top operates at any speed and retracts in 12 seconds. The roof bars store easily in the tailgate for a true top-down driving experience—a class-exclusive feature.
The new smart fortwo cabrio also offers unprecedented levels of customization. In addition to the introduction of three new tridion cell and two soft top colors, tridion cell and grille colors are also no longer linked to further allow customers to express and personalize their vehicle—and enjoy the cabrio lifestyle—at an affordable cost.
The new smart cabrio stands out for its innovation, intelligent design and safety features and best-in-class fuel efficiency. The cabrio is poised to continue this pioneering role in its segment and will be available in U.S. dealerships this fall.
*Prices excludes $750 destination and delivery charge