BARRETT-JACKSON PALM BEACH 2017 OPENING NIGHT GALA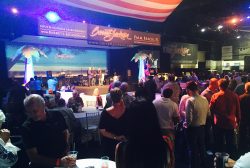 TDN NEWS: BARRETT-JACKSON PALM BEACH 2017 OPENING NIGHT GALA
The 15th Annual Palm Beach Auction shifted into high gear last night with an Opening Night Gala that was every bit of glitz and glamour expected at Florida's premier automotive lifestyle event. Surrounded by exotic cars and TV stars ? including comedian, film and TV personality Adam Ferrara – the Who's Who of the East Coast automotive scene got together to enjoy gourmet cuisine and rock the night away with the live band Soul Survivor.
Chairman and CEO Craig Jackson, along with President Steve Davis and Vice President of Consignment Gary Bennett, revved up a gathering filled with hundreds of consignors, VIP guests and bidders. During his opening remarks, Jackson thanked the guests for attending this 15th annual event, and for the contributions they make towards creating a family-like atmosphere at every Barrett-Jackson auction.
Gates officially opened today at 8 a.m. to a crowd eager for a full day of excitement at Barrett-Jackson. With activities designed for the entire family, guests enjoyed edge-of-your-seat rides in the latest Ford, Dodge and Chevrolet vehicles, endless exhibitor booths and exhibits, free symposiums about the collector car hobby, and of course exciting action in the auction arena.
Automotive memorabilia took center stage at 9 a.m., with guests enjoying an endless docket of authentic Automobilia pieces selling at No Reserve, including vintage gas pumps, pedal cars and neon signs. Top sellers included a trio of restored service station gas pumps from the 1940s and '50s, a pristine 1930s Coca-Cola ice chest and a custom-built Coca-Cola soda fountain double-sided sign.
Next in line to hear the gavel fall were more than 150 collector cars. Top sellers included a diverse selection of muscle cars, convertibles, customs – and a 1967 Austin-Healey 3000 Mark III BJ8 (Lot #107). Among the most memorable sales of the day was the first of five charity cars of the auction – a 1969 International Travelall (Lot #3000) that sold for $50,000, 100 percent of which benefits the Boy Scouts of America.