AUDI AT DESIGN MIAMI: INTO AN ELECTRIC FUTURE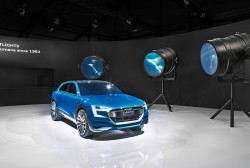 AUDI AT DESIGN MIAMI: INTO AN ELECTRIC FUTURE
Presentation of the Audi e-tron quattro concept with art installation
Cooperation with "Humans since 1982" design studio
"Sharing creative ideas with designers and artists inspires us"
Audi is presenting the future of electric mobility at this year's Design Miami in the shape of the Audi e-tron quattro concept. The Stockholm design studio "Humans since 1982" has been given the commission to present the sporty SUV. Audi has been a partner of Design Miami since 2006.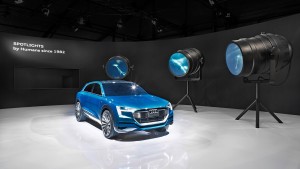 Dietmar Voggenreiter, AUDI AG Board of Management member for Sales & Marketing, explains: "Sharing creative ideas with designers and artists inspires us. As visionaries, the way they think transcends boundaries. Such progressiveness is one of our guiding principles whenever we develop cars such as the Audi e-tron quattro concept."
This year, Audi's presence at Design Miami is all about electrification, aerodynamics and renewables. The designers Per Emanuelsson and Bastian Bischoff from the "Humans since 1982" studio developed the concept for this approach. Their "Spotlights" presentation picks up on individual virtues of the showcar and translates these into an artistic video installation. With their contribution, they now join the list of renowned architects and designers who have worked for Audi in recent years, including Moritz Waldemeyer, Konstantin Grcic, Reed Kram and Clemens Weißhaar.
This year, Design Miami takes place from December 2 to 6 in Miami Beach. The design forum is regarded as an important meeting point for the international art and design scene, and brings together collectors, gallery owners and artists.