ALL-NEW 2014 MAZDA3 MAKES GLOBAL DEBUT AS COMPACT CAR CELEBRATES 10 YEARS OF PRODUCTION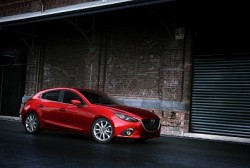 NEW YORK, June 26, 2013 — Ten years ago the first Mazda3 was born, and today the global birthday party kicks off with the world premiere of the all-new 2014 Mazda3.  With same-day unveil events in New York, London, Istanbul, Melbourne and St. Petersburg, this completely redesigned and re-imagined third-generation model seeks to again propel Mazda3 as the leader in its segment.  Engineered with the full complement of SKYACTIV®1 technologies – a proprietary suite of fuel-efficient, performance-driven components and manufacturing philosophies – as well as the handsome styling of the KODO design language, this all-new compact car was deliberately crafted to take your breath away.
"We are proud to mark 10 years of the Mazda3's success with the global debut of the next-generation vehicle," said Jim O'Sullivan, president and CEO, Mazda North American Operations (MNAO).  "There is no doubt that the all-new Mazda3 arrives with all-new expectations.  Yet as its track record has shown, we look forward to not only meeting those expectations, but exceeding them in the way only Mazda can."
In production since June 25, 2003, more than 3.5 million Mazda3s have been sold in more than 120 countries around the world, and 136 global awards have been received.  The best-selling model in the brand's lineup, Mazda3 accounts for nearly a third of the company's annual global sales.  Previous generations were acclaimed in markets around the world for their emotive design, responsive and dynamic handling, environmental performance, safety, technology and excellent craftsmanship.  With the undeniable passion instilled from the design and engineering teams, whether you're snugly situated behind the perfectly-molded steering wheel or obsessively ogling its aggressively sleek character lines, this next-generation Mazda3 will command your presence unlike any other vehicle in its class.
The first generation (2003-09) – with its unexpected design, performance and quality – changed assumptions about the compact car segment consisting of low-cost, throw-away vehicles.  By being the dynamic sports compact leader, more than two million units were sold.
The second generation (2010-13) further enhanced the Mazda3's sporty driving essence, as well as improved its fuel economy consumption with the introduction of SKYACTIV TECHNOLOGY.  Also not taking a backseat was safety, in which the second-generation Mazda3 received the highest five-star rating from Euro NCAP and was named a Top Safety Pick by the U.S.'s Insurance Institute for Highway Safety (IIHS).
The third-generation model, on sale in the United States this fall, will be introduced with a choice of two gasoline engines: the SKYACTIV-G 2.0-liter and SKYACTIV-G 2.5-liter.  An all-new human-machine interface (HMI) system also will make its debut.  This in-car infotainment system is meant to broaden the scope of the driving experience, and was designed with ease of use and safety as top priorities, as well as ensuring the driver's focus remains on the job at hand: driving.