2016 JAGUAR XF S QUICK TAKES
TestDriveNow QUICK TAKES: 2016 JAGUAR XF S OVERVIEW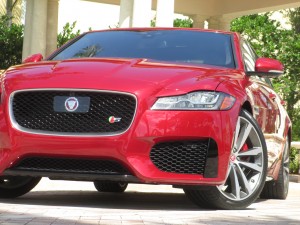 The all-new Jaguar XF: lighter, more efficient and packed with technology
Unrivalled refinement, dynamics and design
Aluminium-intensive architecture enables class leading weight: 80kg lighter than the competition*
The lowest CO2 emissions of any non-hybrid model in the segment: 104g/km
Elegant, progressive design combines short overhangs and outstanding proportions with exceptional aerodynamic efficiency: Cd 0.26
Segment-leading for rear seat space: row-two occupants gain 15mm more legroom, 24mm more kneeroom and up to 27mm more headroom
All-new 10.2-inch touchscreen infotainment system – InControl Touch Pro – offers door-to-door navigation, seamless iOS and Android connectivity, and 1 speaker, 825W Meridian digital surround sound
Reconfigurable 12.3-inch TFT instrument cluster features four visual themes and full-screen navigation display
Powertrains from 163PS Ingenium diesel and six-speed manual to 380PS V6 supercharged petrol and eight-speed automatic transmission 
Double-wishbone and Integral Link suspension deliver exceptional ride comfort, handling, and unrivalled refinement
All-Surface Progress Control enables smooth, effortless drive-away on low-friction surfaces such as snow and ice – all the driver has to do is steer
Torque on-demand all-wheel drive (AWD) with Intelligent Driveline Dynamics delivers an optimum balance of performance and all-weather capability
Adaptive Surface Response mode for Jaguar Drive Control distinguishes between different types of surface for even more assured AWD traction
The all-new XF offers a host of additional technology including full-LED headlights, a laser head-up display which delivers high-contrast colour images, autonomous emergency braking, adaptive cruise control with queue-assist, lane keep-assist, intelligent speed limiter and semi-automated parking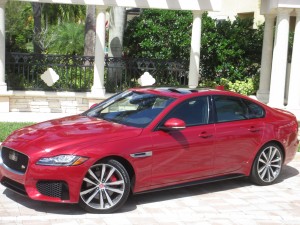 The all-new Jaguar XF brings an unrivalled blend of design, luxury, technology and efficiency to lead the business car segment, underpinned by class-leading driving dynamics and refinement.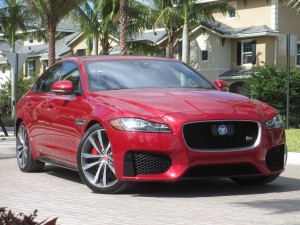 The dynamic, coupé-like design is formed around Jaguar's aluminium-intensive architecture and combines the outstanding proportions, elegant surfaces and perfect lines which define all Jaguar cars, with a longer wheelbase, more interior space and exceptionally low aerodynamic drag.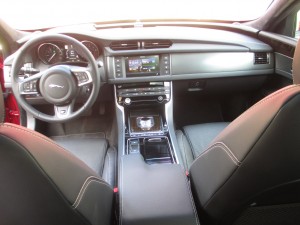 The cabin is a seamless blend of contemporary luxury materials and finishes, traditional Jaguar craftsmanship and state-of-the art technology, with features such as a reconfigurable 12.3-inch TFT instrument cluster, laser head-up display and the InControl Touch Pro premium infotainment system – the all-new XF is the most connected Jaguar ever.
"I believe the all-new XF is the best looking car in its class. Elegant, handsome and with proportions that imbue a great sense of integrity – the all-new XF is true to the great tradition of sporting Jaguar saloons while being completely of its time." Ian Callum, Director of Design, Jaguar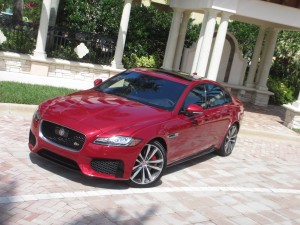 The 2007 XF was a radical step forward for Jaguar – and for the business car segment. Combining a sleek, coupé-like exterior and a luxurious interior, it set the class benchmark for aesthetics and driving dynamics.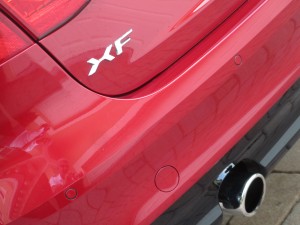 Features such as the rotary shift controller, rotating air vents and phosphor blue ambient lighting set the cabin apart from the competition and made the XF a highly desirable, aspirational vehicle. It was like nothing Jaguar had ever made before, and like nothing the competition could offer. The XF went on to become the most-awarded Jaguar ever.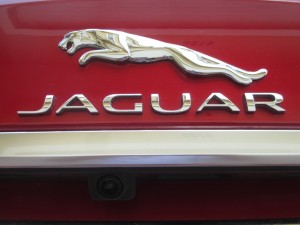 The all-new XF retains its predecessor's core attributes, but uses Jaguar's aluminium-intensive architecture to enable weight savings of up to 190kg – making the 163PS diesel model 80kg lighter than the nearest competitor – plus an increase in torsional stiffness of up to 28 per cent. The architecture also delivers dramatic improvements in packaging and the proportions so essential to Jaguar design.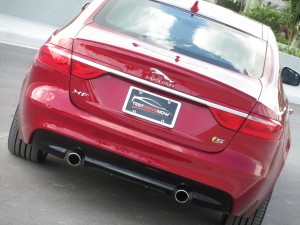 The all-new XF is 4,954mm long: at 2,960 the wheelbase is 51mm longer than before, the front overhang 66mm shorter. Though 7mm shorter and 3mm lower than the original XF, rear seat space is class-leading thanks to 15mm more legroom, 24mm more kneeroom and up to 27mm more headroom than before. Aerodynamics are also superior: the drag coefficient drops from 0.29 to just 0.26.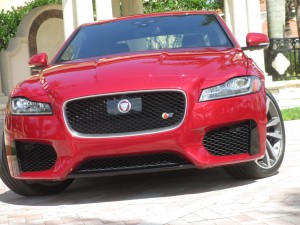 The light, stiff body is also fundamental to the all-new XF's superb vehicle dynamics. Double wishbone front suspension and Integral Link rear suspension – combined with near-50:50 weight distribution – deliver the ideal balance between ride and handling.
"From an engineering perspective, our targets with the all-new XF were bound by one holistic goal – it had to do everything better, and it does.
"It offers even better dynamics, even greater refinement for the comfort of its occupants, it delivers an all-new infotainment system, and it utilises every last mm of packaging to maximise interior space, while exploiting all the weight-saving optimisation offered by our new aluminium-intensive architecture. As a driver you will notice these benefits from the moment you sit behind the wheel."   Ian Hoban, Vehicle Line Director, Jaguar XF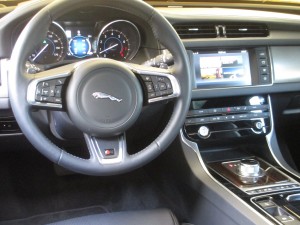 Adopting Electric Power Assisted Steering (EPAS) maintains Jaguar's leadership in steering feel but also reduces fuel consumption by up to two per cent and three per cent for diesel and petrol models respectively. EPAS also enables functions such as camber compensation and advanced driver assistance systems including lane-keep assist, driver condition monitoring and bay- and parallel park-assist.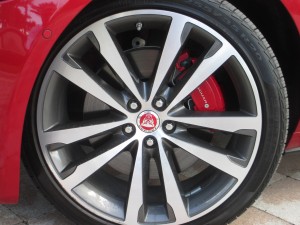 Advanced passive damper technology delivers exceptional ride quality as standard through an extra valve which reduces damping forces at low speeds. For even better control the Adaptive Dynamics system monitors body movement 100 times a second and wheel movement 500 times a second to determine the optimum damper settings for the driving conditions.
Jaguar Configurable Dynamics technology, optional on all V6 models, provides the ultimate in control and enables the driver to individually tailor settings of the dampers, steering, engine and eight-speed automatic transmission.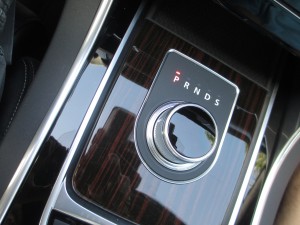 All-wheel drive (AWD) was engineered into the vehicle from day one. The torque on-demand system is new, and the transfer case features a lighter, quieter, more efficient chain drive.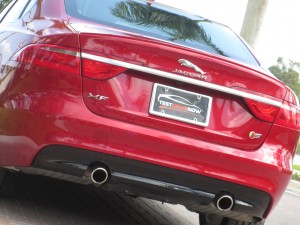 Capability is also enhanced by the advanced control system first used in F-TYPE AWD: Intelligent Driveline Dynamics (IDD). This delivers rear-drive handling with the performance and traction benefits of AWD.
A first for XF AWD is the addition of the Adaptive Surface Response (AdSR) mode to Jaguar Drive Control. Leveraging Jaguar Land Rover's unrivalled expertise, AdSR identifies the type of surface, such as snow or gravel, and adapts the mapping of the engine, transmission, steering and Dynamic Stability Control to make the vehicle even more composed in low-grip conditions.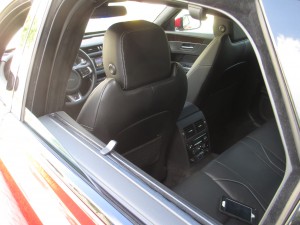 Ability is unrivalled in rear-wheel drive form too. All-Surface Progress Control, developed for low-speed driving in adverse conditions, automatically manages the brakes and the throttle to deliver the best possible traction, enabling the car to pull away smoothly and without drama: the driver only has to steer. ASPC operates between 3.6km/h and 30km/h, and the desired speed is set by the driver using the cruise control switches.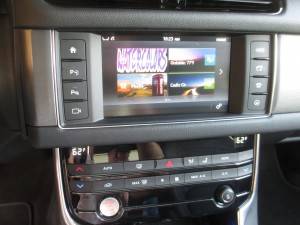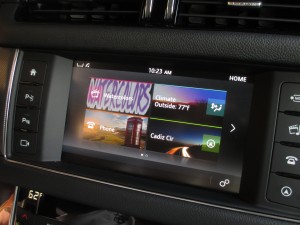 Infotainment and connectivity is the most advanced Jaguar has ever offered. The all-new InControl Touch Pro system builds on the intuitive user interface of InControl Touch, and supports all the same features – including InControl Apps, InControl Remote and Wi-Fi hotspot – but offers a 10.2-inch touchscreen.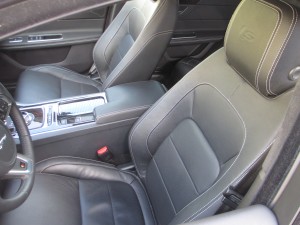 To enrich the experience there's also natural voice control, supporting commands such as 'more like this' for track selection, and 10GB of the 60GB solid-state drive is dedicated to media storage, enabling Gracenote album art to be displayed. Audio systems include the exceptional 17-speaker, 825W Meridian digital surround sound system.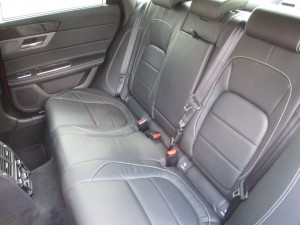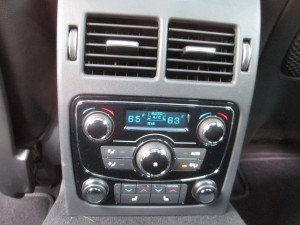 To handle the enormous amounts of data, InControl Touch Pro features a high-performance quad-core processor and runs on state-of-the-art, ultra-fast Ethernet, a network technology which offers exceptional data transfer rates of up to 1Gbit/second. Combined, they deliver incredible graphics, fast response times and help to future-proof the system for significant upgrades in functionality over time.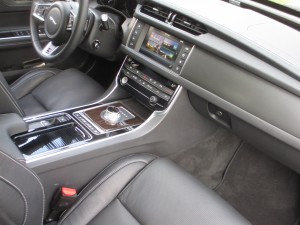 To minimise driver distraction the all-new XF offers a colour laser head-up display. Compared to competitor systems, this technology is smaller, lighter, and generates high contrast images which are easier to read in strong sunlight.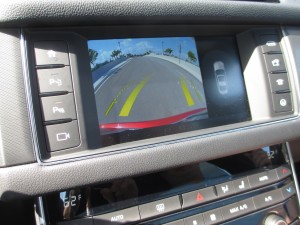 Stereo camera technology enables autonomous emergency braking, lane departure warning and lane-keep assist systems. Adaptive Cruise Control with Queue Assist takes the stress out of motorway driving in stop-go traffic by tracking the vehicle in front, at a safe distance.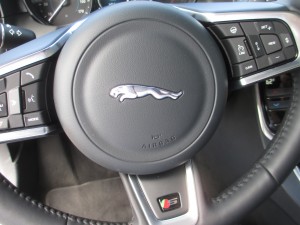 The traffic sign recognition system brings Jaguar's first application of an intelligent speed limiter. Once set, the system monitors speed limit signs, compares them with navigation data and, when a change in speed limit is posted, can regulate vehicle speed by either smoothly accelerating the car up to a higher limit or slowing it down to a lower limit.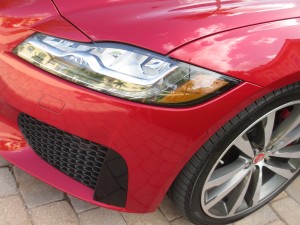 The all-new XF is also the first Jaguar to offer adaptive full-LED headlights. Featuring two banks of LEDs and reflectors – one for dipped beam, the other for main beam – they generate light with a colour temperature closer to that of daylight than is achievable with Xenon lights, delivering better illumination. At the same time, energy consumption is reduced. So efficient are they that, unlike first-generation designs, cooling fans are not needed.
If the high-beam assist function is specified, the stereo camera will detect other vehicles in the distance, and the headlights will be dipped automatically as necessary to avoid dazzling other drivers.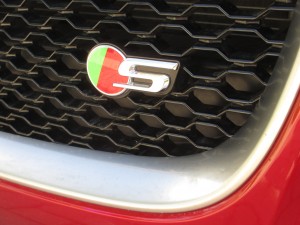 The all-new XF range will consist of: XF Pure/ SE, XF Prestige, XF R-Sport, XF Portfolio, XF S.
The powertrain range will consist of: 163PS and 180PS 2.0-litre diesel manual and automatic; RWD, 240PS 2.0-litre petrol automatic; RWD, 300PS 3.0-litre diesel automatic; RWD and AWD, 340PS and 380PS 3.0-litre petrol automatic.
Supercharged V6: Highly-rated sports car performance 
Enthusiasts demanding the most involving driving experience now have the choice of Jaguar's free-revving 3.0-litre supercharged V6 in 340PS and 380PS ratings – and with rear- or all-wheel drive (AWD).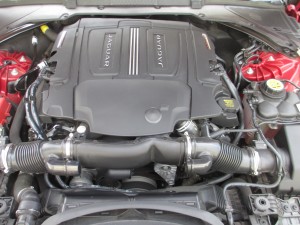 Shared with the F-TYPE sports car, these all-aluminium engines combine supercharging with direct-injection and variable intake and exhaust valve timing to deliver exceptional throttle response, linear power delivery and a unique soundtrack.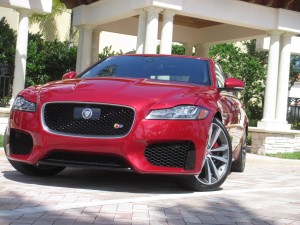 A single balancer shaft enhances smooth-running and refinement, while a carefully-tuned symposer feeds some of the supercharged V6's induction sound back into the cabin to make exploiting the performance potential even more exhilarating.
This is the first time the 380PS version has been used in a Jaguar saloon and is reserved exclusively for the all-new XF S. Matched to an eight-speed automatic transmission, this model is capable of covering the 0-60mph sprint in 5.1 seconds – or just 5.0 seconds in AWD form –  on its way to an electronically-limited maximum speed of 155mph.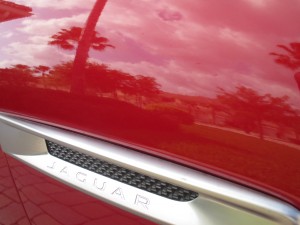 Manufactured at Jaguar Land Rover's Castle Bromwich Plant, the all-new XF joins the Jaguar saloon car range between the XE and XJ model lines.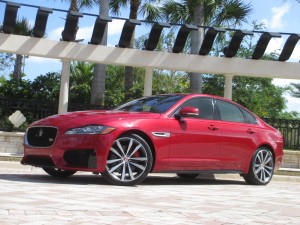 2016 JAGUAR XF S MSRP $62,700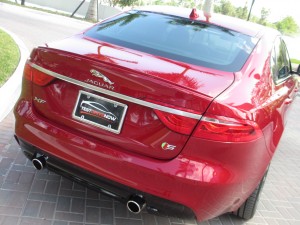 As shown with Italian Racing Red-Metallic; E=Gloss Figured Ebony Veneer; Comfort & Convenience Pack; Luxury Interior Upgrade Pack; Driver Assistance Pack; and more TOTAL PRICE $73,335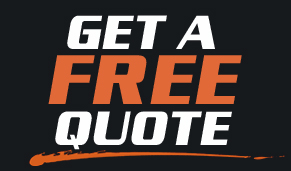 CLICK HERE to get a FREE ONLINE PRICE QUOTE for your next NEW CAR from a dealer near you. Absolutely NO OBLIGATION. 

CLICK HERE to LIKE TestDriveNow.com on FaceBook!

FOLLOW Steve Hammes on Twitter @DriveTimeVideos!