2015 Volkswagen Golf R VIDEO REVIEW
2015 Volkswagen Golf R VIDEO REVIEW by Auto Critic Steve Hammes
There are certain letters in the automotive alphabet that get car people all giddy…like M, S, V and of course, R. As it pertains to Volkswagen, they've been producing small batches of R variants of their smallest car for many years and each time they do the crowd goes wild.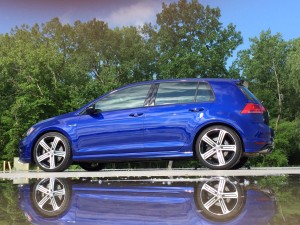 The Golf is where it's at these days in the VW showroom.  The recipient of nearly universal praise and a host of awards, VW's most affordable ride comes as a base hatchback, a versatile SportWagen, the go-getter GTI, the electric e-Golf or this range-topping Golf R – the most powerful and fastest production Golf ever.  The hot hatch segment has long since been a favorite of the tuner crowd but this one already comes all muscular and chiseled right out of the box, with a 5 year/60,000 mile Powertrain Warranty.  There hasn't been a Golf R since the 2013 model year so the pent-up demand for Wolfsburg's latest blue streak has VW aficionados ready to plunk down the $37,415 to obtain one.
And if you've just got to have these make-or-break 19" wheels, the DCC adaptive damping system, a touchscreen navi and a Fender Premium Audio System just like this car, then the price gets within a hundred bucks of 40 grand.  I've driven a number of these Golf Rs over the years and even though some of the ingredients change from one generation to the next the recipe always produces an immensely fun-to-drive yet practical 5-door replete with an undeniable European coolness.  You're either down with the 1970's-inspired style or it's a complete turn-off, but there's no denying this car has presence.    The only non-subjective demerit has and continues to be its jaw-dropping price tag.
So what distances this Golf from one that costs half as much?  First off, it's the only one you can get with 4MOTION – VW's brand of all-wheel drive, which decouples the rear wheels during sedate driving to help conserve gas.  This latest version reacts even quicker than before to get power to the wheels that need them most, with a maximum of 50% available for the back 2.  And then there's XDS+ which acts as a limited slip differential on both axles getting the Golf R through the corners even faster and with more grip.  It helps to think of it as 4MOTION working longitudinally to keep the car fastened while XDS+ operates laterally to do the same.
The Electronic Stability Control also comes exclusively with a full off mode for those who wish to race without computer-aided assistance.  Summer-use Bridgestone Potenza Pole Position tires riding on a lowered, Golf R-specific sport tuned suspension complete the car to road handshake.  And with the optional Driving Mode Selection feature, you can tailor the experience between a relaxed, quiet cruiser capable of evening out rough roads to a high-strung, ready-to-pounce racer with a soundtrack to match.  Steering responsiveness is excellent with a progressive amount of effort required, producing quick changes just off center like when entering a turn to a more relaxed demeanor at the far ends such as in parking situations. The R logo brakes are the same upsized discs from the GTI Performance package.
Though a 6-speed manual will debut for the 2016 model year, all Golf Rs initially come with a 6-speed dual-clutch automatic transmission with sport mode and paddle shifters…a user friendly, appropriately matched gearbox for a racy car but also one that can be a little jerky and occasionally slow to downshift.  But the heart of the Golf R is its motorsports-style developed 2.0-liter engine…a more advanced version of the motor found in the GTI, made here to produce 292 horsepower and 280 pound-feet of torque that starts at a low 1,800 RPM.  Lag is infinitesimal and the sounds you enjoy as the driver are some of the most satisfying I've ever heard from an engine this size.  A launch control mode takes the Golf R from 0-to-60mph in only 4.9-seconds.
This new 7th generation Golf is an excellent car no matter which member of the family you choose but with the most power, permanent all-wheel drive, an adaptive damping system and launch control its this Golf R the most ardent drivers aspire to. Sure, the GTI gets the job done too but I love this car's added perks and exclusivity.
Having just come off of a week in the Subaru WRX, I really appreciate the Golf R's more well-rounded personality, designed with a cabin you're not embarrassed to show off.  It doesn't carve up a road quite as well as the Subie, but it's quiet, comfortable, spacious and versatile…not to mention fuel efficient, rated at 26mpg combined on premium; the kind of attributes that help sell it to your spouse.  The new infotainment unit isn't half bad though with a small screen and Atari-like graphics and in whole the Golf R's interior feels of high quality.  And as is typical for VW, the windshield provides a video game-like, commanding view of the road ahead.  Just don't look for a way to open the center console because it doesn't…oversized door pockets are the alternative.
This is indeed my favorite VW and one I'd be proud to own.  An addicting drivability with everyday usability at a near luxury-car price.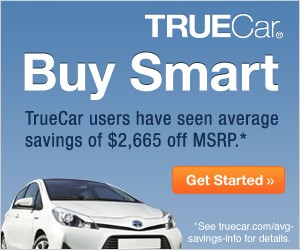 CLICK HERE to get your TRUECAR SAVINGS CERTIFICATE for your new VOLKSWAGEN. Absolutely NO OBLIGATION.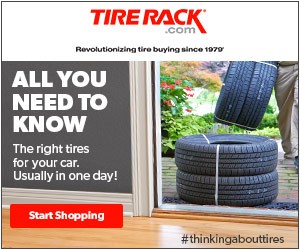 CLICK HERE TO FIND THE BEST DEAL ON TIRES FOR EVERY MAKE AND MODEL CAR, TRUCK OR SUV. SPECIAL DISCOUNTS FOR TESTDRIVENOW FANS.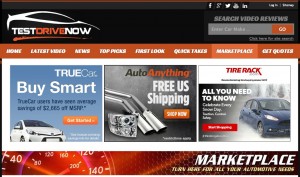 CLICK HERE TO FIND TODAY'S HOTTEST DEALS FOR ALL YOUR AUTOMOTIVE NEEDS.

CLICK HERE to LIKE TestDriveNow.com on FaceBook!

FOLLOW Steve Hammes on Twitter @DriveTimeVideos