2015 Lexus RC F REVIEW
2015 Lexus RC F VIDEO REVIEW
If you didn't have the $400,000 needed for the LFA, well all hope is not lost. Lexus has now created a machine in the spirit of that supercar for a fraction of the price. Meet the V8-powered, racetrack engineered RC F.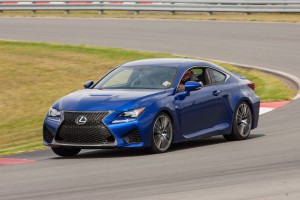 The IS-F sedan had a nice 7-year run.  Until the stratospherically priced LFA arrived 4 years ago, it served as the brand's performance halo car, stuffed with a high-revving V8 and shockingly quick 8-speed auto.  Well, much of that formula lives on here in the new 2015 RC F; a 2-door Lexus for those with speed on the brain and an appetite for sensory overload.  Priced from $63,325, it resides at the pinnacle of the new lineup of Lexus coupes.  It also pushes the recent Lexus design language to the edge of the envelope, with more cut marks than a bloody boxer.  Lexus claims nothing is superfluous here, with every sculpted piece designed to either intake air, extract air or cheat the air leading to a wild coachwork that has others driven to distraction.  My favorite bits?  The carryover stacked exhaust tailpipes and the L-themed LED daytime running lights.  Oh, and these optional 19" 20-spoke wheels aren't too shabby, either.
This Ultrasonic Blue Mica 2.0 is one of three premium colors and it's one of the most spectacular paint jobs I've ever seen. It's produced using a 5-coat, 4-bake process that gives it unparalleled richness.
The 5.0 lives on, too but in a vastly new way which benefits both output and efficiency.  When you hear Atkinson Cycle you probably think Hybrid, but Lexus smartly utilizes this gas saving technology in the RC F at cruising speeds. When you summon more power, it's back to the Otto cycle, tuned for a track friendly, high-revving 467 horsepower and 389 pound-feet of torque.  Initially reserved in its sound, the exhaust suddenly awakens at 3,000 RPM to provide a soundtrack that's appropriately loud with driver selectable, augmented rumble stemming from something Lexus calls Active Sound Control, but only when in the highest SPORT S+ mode. The 4.4 seconds it takes to reach 60mph is impressive in that it happens so simply.  You'd better keep your eye on the speedo because the numbers are always higher than they seem.  Though the various driving modes modify the 8-speed automatic, the shocks and electric steering are left alone.  That may seem a little cheesy in this segment, but the RC F's ride quality and steering effort are always on the mark.  This may be the most powerful V8-powered Lexus ever but it is still a Lexus and it can be driven comfortably every day.  Gas mileage has risen slightly from the IS F to 16mpg city/25mpg highway.
It's a real bummer that Mother Nature chose this week to unleash a cold snap on our otherwise mild winter, because the RC F's Michelins don't care for freezing temps. So, much care has been taken to ensure I return this to Lexus in one piece. Meaning I haven't been able to drive it like I could on a summer day. That being said, even at 50% I am completely sold on the RC F's awesomeness.  Its dynamic range from Eco to Sport S+ is mind blowing; able to play the role of a Lexus luxury car in everyday driving while being tailored for racetrack heroics.  It's an amazing feat at this price.
It weighs nearly 2 tons but never feels nose heavy.  My car has the optional Torque Vectoring Differential with 3 selectable settings to further its track-ready credibility. Ditto for the traction and stability control systems which have Expert and full off settings.  Using or disabling the array of electronic helpers is easy, controlled through a rotary knob and button with each choice specifying its own gauge layout…very cool, indeed.  But this car would make a great candidate for heads-up display.
The cabin is a special place with detailed elements.  Other upgrades on my car include the leather trimmed sport seats, a full-blown navi system with killer Mark Levinson surround sound – though accessed via the balky touchpad controller, and the big $4,400 Premium Package with heated and cooled front seats with memory, carbon fiber trim  and triple-beam LED headlamps.  The rear seats are for appearance only.  Total cost is $74,130.  Though I must reserve full driving impressions for a warmer week, the RC F is clearly a race ready machine that still treats you to Lexus-level comfort; a highly worthy competitor in the recently reinvigorated luxury, performance coupe segment.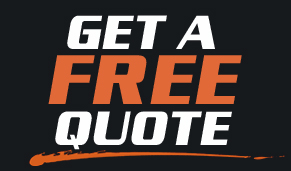 CLICK HERE to get a FREE ONLINE PRICE QUOTE for your NEW LEXUS from a dealer near you. Absolutely NO OBLIGATION.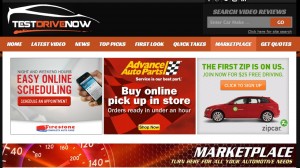 CLICK HERE TO FIND TODAY'S HOTTEST DEALS! TURN HERE FOR ALL YOUR AUTOMOTIVE NEEDS AND MORE.

CLICK HERE to LIKE TestDriveNow.com on FaceBook!

FOLLOW Steve Hammes on Twitter @DriveTimeVideos!