2015 BMW X6 M VIDEO REVIEW
2015 BMW X6 M VIDEO REVIEW by Auto Critic Steve Hammes
I've driven a lot of cars over the past 17+ years and during that time I've compiled a short list of favorites. To make it, the vehicle has got to be exclusive, luxurious and shock people with its styling and performance. The original BMW X6 did those things and this new X6 M is even more satisfyingly preposterous than the original.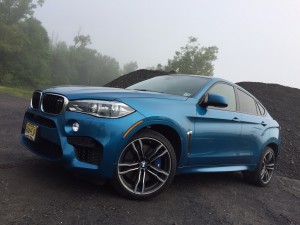 Hear that?  That's the sound of no compromises.  Unbeatable presence, astonishing performance.  That's the X6 M's credo making this all-new 2015 version one of the most seductive vehicles a hundred grand can buy.  It's a have-your-cake-and-eat-it-too moment so delicious that your appetite to drive it will never be sated.  Nothing about it is ordinary.  It starts as the sexier, coupe-like rendition of the X5 and then goes crazy with a full-on M assault.  That includes a twin-turbo 4.4-liter V8, huge air intakes to feed it and quad pipes to let it exhale.  There are max performance summer use 21" staggered width tires, a rear-biased all-wheel drive system working in concert with torque vectoring between the rear wheels for even greater agility and traction, M-specific steering ratios for more direct feel and massive brakes for more confident stopping…all areas improved upon from the previous generation.  The Dynamic Stability Control system has been optimized to allow for power oversteer drifts.  This just seems so wrong in an SUV, which is why it feels so right.
The resume of M upgrades goes on and on which collectively elevates this X6 M even beyond the original's awesomeness, not the least of which is the modified exhaust, providing even more of that great M sound we all crave.  It's lighter, faster and more efficient.  And this new Long Beach Blue Metallic paint is a showstopper.
No video can do justice as to just how ridiculously fun the X6 M is to drive. The absurdity of a 567hp SUV that can destroy 60mph in 4.0 seconds is exactly why I love it. It turns like a rear drive sports car and has every bit of precision you'd expect from an M. Oh and it can play quiet and composed too with 5 usable seats and plenty of cargo room. What's not to love?
Ok, so I don't love this futuristic shifter for the new 8-speed automatic apparently too cool to include a Park function.  And the individual settings for engine, shocks, steering and transmission drive programs feel overwrought, though you can program and save your favorite recipes as M mode 1 and 2.  Otherwise, I'd hardly change a thing.  From the comfort found in the front seats with their power side bolsters which hug you in place to the color heads-up to display and optional NightVision system with pedestrian detection, the X6 M's aura of completeness and supreme level of competence is beyond impressive.  You feel like you own the road.  In the X6 M, you are king.
When it's not flaunting its newfound 553 pound-feet of torque, the X6 M is completely cool with the family duty for which it was designed.  The sloping roof line really doesn't eat away at rear headroom and it feels less cavernous than before with comfortable and spacious seating for 3 thanks to the flat floor while quad zone climate control and manual sunshades keep everyone happy.  The cargo area retains a large, useful cut with a number of clever features designed to make hauling stuff easier and safer.  And of course, the rear seats fold nearly flat for easy expansion.  And the classic richness of the optional brown leather mixed with the modern mood of the big center screen and carbon fiber trim is design genius.
And when you want to push it to its limits, the X6 M packs launch control, a wonderfully smart paddle shifted transmission and the road holding ability of a legit sports coupe.  The engineering required to get a sport-utility to this level of driving precision is one of BMW's greatest feats. Gas mileage is also improved upon, now rated at 14mpg city/19mpg highway with the added benefit of an auto start/stop system.  A suite of intelligent safety features can be selectively disabled with a push of a button and the iDrive system has a nifty touchpad controller that allows you to write with your finger as well as Google search.  Sorry, but there's no Wi-Fi.  And you know I love it when the LED headlights have fog lights to match.
If you fawned over the original X6 M the way I did you're ensured of even more gratification here…it is indeed one special vehicle.  MSRP as tested is $115,195.

FOLLOW Steve Hammes on Twitter @DriveTimeVideos!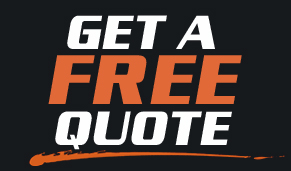 CLICK HERE to get a FREE ONLINE PRICE QUOTE for your next NEW CAR from a dealer near you. Absolutely NO OBLIGATION.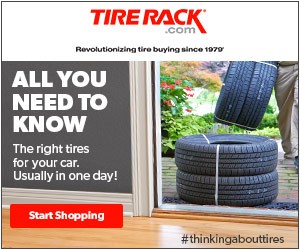 CLICK HERE TO FIND THE BEST DEAL ON TIRES FOR EVERY MAKE AND MODEL CAR, TRUCK OR SUV. SPECIAL DISCOUNTS FOR TESTDRIVENOW FANS.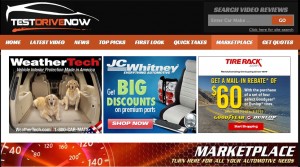 CLICK HERE TO FIND TODAY'S HOTTEST DEALS FOR ALL YOUR AUTOMOTIVE NEEDS.

CLICK HERE to LIKE TestDriveNow.com on FaceBook!