2014 Ram 1500 Offers Best-in-class Fuel Efficiency with Industry's Only Light-duty Diesel Pickup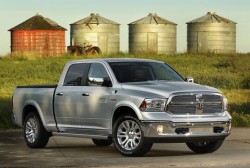 Auburn Hills, MI – 07/03/13 – The 2014 Ram 1500 will offer a new, 3.0-liter EcoDiesel engine, mated with the TorqueFlite eight-speed automatic transmission. The engine delivers an outstanding combination of best-in-class fuel efficiency, unsurpassed torque and impressive capability.
Pricing for the 2014 Ram 1500 starts at $24,200, plus $1,095 destination. The exclusive V-6 EcoDiesel with TorqueFlite 8-speed automatic transmission is priced $2,850 greater than a similarly equipped Ram 1500 with a 5.7-liter HEMI V-8 with Torqueflite 8 speed transmission.
Also new on the 2014 Ram 1500 is a front park assist system and host of efficiency, comfort and emissions-friendly refinements including a variable displacement compressor; pulse-width modulated blower; humidity sensor; and the latest technology in air conditioning refrigerant.
The 2014 Ram 1500 delivers best-in-class fuel economy with a truckload of pioneering, fuel-saving systems including: eight-speed automatic transmission, stop-start system, thermal management system, pulse-width modulation and active aerodynamics, including grille shutters and air suspension.
The 2013 Ram 1500 won Motor Trend's Truck of the Year, The North American Truck of the Year and Truck of Texas – a rare trifecta in the pickup segment. Building on the award-winning truck, the 2014 Ram 1500 EcoDiesel will further stretch its best-in-class fuel economy title lead and continue to raise the innovation bar in one of the automotive industry's most customer-loyal segments.