Seat Belts and Child Safety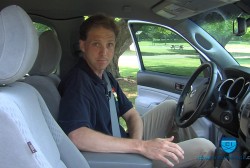 Hi. I'm Steve Hammes from DriveTime.  Did you know that motor vehicle crashes are the leading cause of death of all persons from the age of 3 to 33 years old?
Wearing your seat belt is the single most effective thing you can do to protect yourself in a crash.
Seat belts should be worn no matter where you are in an automobile. Everyone inside should be buckled up, including expectant mothers.
For younger passengers, select a car seat based on your child's age and size.  According to the National Highway Traffic Safety Administration, 75% of child restraints and/or car seats are used improperly. The LATCH system, standard on U.S. vehicles since 2002, is designed to make child seats easier to install.  If you're unsure of proper usage, the NHTSA as well as various state and local agencies have inspection centers nationwide to assist.
After 8 to12 years of age, kids can normally fit into seat belts properly. But, they should still ride in rear seats.