Jaguar to Unveil C-X17 Concept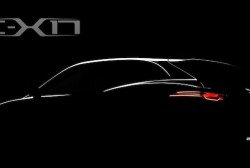 (WHITLEY, UK) -The C-X17 has been created as a design study to introduce Jaguar's new, highly-advanced, modular aluminum architecture.
The concept illustrates the diversity of vehicles that could be produced using this architecture, which underpins the innovative future of the Jaguar brand.
Jaguar will also display its newly introduced production models at the Frankfurt Motor Show. These will include the recently launched 'R' performance models – the XJR and XFR-S – as well as the highly-acclaimed F-TYPE.
The pre-show reveal to invited guests will be streamed live at 11:30 am EST/8:30am PST/ 17:10 CET on September 9, 2013 at Facebook.com/Jaguar.
The Show press conference will be streamed live at 4:30am EST/ 1:30am PST/ 10:30 CET on September 10, 2013 at Facebook.com/Jaguar.
Twitter @Jaguar or @JaguarUSA  #CX17.