INFINITI PRESENTS THREE NEW Q50 SPORTS SEDAN ENGINES FOR THE FIRST TIME AT THE 2016 CHICAGO AUTO SHOW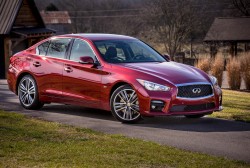 TestDriveNow Special Report
INFINITI PRESENTS THREE NEW Q50 SPORTS SEDAN ENGINES FOR THE FIRST TIME AT THE 2016 CHICAGO AUTO SHOW
Infiniti today revealed the full lineup of new advanced engines for its Infiniti Q50 sports sedan at the 2016 Chicago Auto Show, including 300-horsepower and 400-horsepower versions of the advanced 3.0-liter V6 twin turbo engines and a 2.0-liter 4-cylinder turbo engine. The three new engine-equipped Q50 models – designated the Q50 2.0t, Q50 3.0t and Q50 Red Sport 400 – are on display at the country's oldest and best-attended auto show, along with the 2016 QX60 crossover and the all-new QX30 premium active crossover. It is the first time all of these new models have appeared together.
"We are completely transforming the Infiniti model lineup this year with all-new models like the QX30 and Q60 sports coupe, major makeovers such as the QX60, and cutting-edge powerplants like the Q50's three all-new turbocharged engines," said Tony Gardina, regional vice president, Infiniti North, Infiniti USA. "We can't think of a better venue to showcase our full-scale product renaissance than the Chicago Auto Show, which attracts more than one million visitors annually."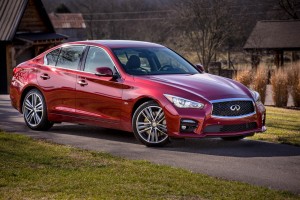 Public days for the 2016 Chicago Auto Show, held at McCormick Place, run from Saturday, February 13 through Sunday, February 21.
The new compact, lightweight 3.0-liter V6 twin-turbo engine is the most advanced V6 engine that Infiniti has ever offered, striking an ideal balance between drivability, efficiency, and performance. The new VR-series engine will be first available in the Q50 Red Sport 400 beginning in early spring, followed by the 300-horsepower Q50 3.0t in late spring.
The third new Q50 powerplant is a 2.0-liter turbo inline 4-cylinder, producing 208 horsepower and 258 lb.-ft. of torque. Offered in conjunction with Daimler and assembled at Infiniti's engine plant in Decherd, Tennessee, this engine is available in the Q50 2.0t model in both rear-wheel and all-wheel drive and goes on sale later this winter. It will be joined by a fourth Q50 powertrain choice, the Q50 Hybrid with Infiniti's proven 3.5-liter gasoline-electric hybrid system with a net 360 horsepower.
Along with the new Q50, other new Infiniti models expected to draw consumer interest at the Chicago Auto include the redesigned QX60 luxury crossover, which adds to its already strong suite of advanced safety technology with Forward Emergency Braking (FEB) with pedestrian detection – a first for Infiniti and the brand's exclusive Predictive Forward Collision Warning (PFCW) system. The new 2016 QX60 arrives in Infiniti showrooms next month. Also on display is the all-new 2017 Infiniti QX30 premium active crossover. The QX30 line is offered in three unique versions – QX30, QX30S and QX30 AWD – in the U.S. and Canada. It is scheduled to go on sale in mid-2016.