2015 Aston Martin Vantage GT VIDEO REVIEW
2015 Aston Martin Vantage GT Roadster VIDEO REVIEW by Auto Critic Steve Hammes
So say you're in the market for a high performance roadster. But you're the kind of person who doesn't do off-the-shelf. For you, exclusivity shares priority with a car's resume, which is why this special edition Vantage GT might be the perfect match. And it doesn't hurt that Aston Martin has priced it within reach of mere mortals.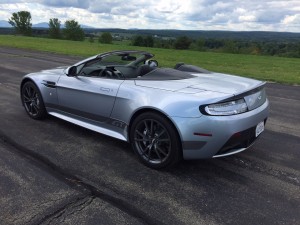 Through its 37 U.S. dealerships, Aston Martin sold only 845 cars last year. Its 5-model range of V8 and V12-powered coupes, roadsters and one sedan starts with this Special Edition Vantage GT priced from $99,000 all the way to the $2.3 million Vulcan supercar. First seen at the 2014 New York Auto Show, the Vantage GT is a race inspired Coupe or Roadster the British automaker calls the most dramatic expression of the V8 Vantage ever created. This all may sound like the price just rose significantly, but in actuality it's the complete opposite. This GT Roadster carries a starting MSRP of $117,225 – that's $18,000 less than the regular V8 Vantage. Even better is that the GT packs the same 430 horsepower version of the engine found in the up-level Vantage S as well as the same chassis tune as the company's GT4 Challenge racecars. And the icing on the cake is Aston's recent partnership with Ally financial to provide, for the first time, a factory-backed lease and finance program with monthly payments as low as $1,400. It's a play to boost sales of the company's decade-old entry-level model and with a car that is this fantastic, everybody wins.
This has been my first detailed test-drive of an Aston and as such there's been a bit of a learning curve with the funky ergonomics. The door handle pushes out and the door itself opens at a raised angle. The crystal key fob is inserted into the central dash and needs to be held in for a couple of seconds. And then situated on your left is the hand brake that can be tricky to release. But what happens next is pure joy. That's the sound of a high-revving, European-tuned small displacement V8 that is as lovable as they come. Leave the sport mode on for the quintessential top-down soundtrack as the 4.7-liter motor opens its air intake valve at engine speeds above 3,500 RPM producing a distinguishable moment of increased power and sound. It's matched to a standard 6-speed manual but can be specified with a 7-speed dual clutch automatic. But with a stick shift that's this right, you'd be crazy to forgo it. The clutch pedal is weighty but exacting in its engagement and the short throws go right where directed. And I don't recall ever testing a rear-drive sport car that produced this level of prodigious adhesion. Not only is the lightweight aluminum core and low center of gravity to thank for this high level of driving precision, but the limited slip differential and exceptional grip afforded by these staggered width 19" Bridgestone Potenzas give you a feeling of invincibility. When you want less stability, so to speak, the electronic systems can be backed off in 2 steps including full off. With 361 pound-feet of torque, 0-to-60mph occurs in an easy-to-launch 4.6 seconds with an impressive top speed of 190mph. My test average of 12.5mpg is close to the EPA estimate of 13mpg city and yes, it is subject to a gas guzzler tax.
So what's it like to drive the Vantage GT. Well, think of it this way? Remember when you were a kid, staring at the poster on your wall of that exotic you longed to drive one day. Yeah, it's like that. With the top down, the intoxicating sounds from that 430hp V8, the firm but precise stick shift and clutch action and really quick steering are driving nirvana. It makes you want to keep going and it's absolutely married to the road so it's easy to drive hard with confidence. It's extra sharp but comfortable.
And it doesn't have to be driven fast to be enjoyed. The GT is a polished top-down cruiser with a turbulent-free cabin. With the top up, there is significant wind noise.
2016 Vantage models receive an updated waterfall center stack and new infotainment – Because I haven't used it yet I can't tell you if it's a big step forward but seeing as how this setup doesn't belong in a budget car much less an Aston any improvement would be welcome.
Like all small volume automakers, Aston struggles with electronics and so the stereo and navigation controls are brutal and other switchgear, like those for the seats, are poorly placed. And with no height adjustment for the passenger seat, shorter folks look straight into the dash. Though the driver enjoys comfort, there's little evidence in here that you're driving something special.
The GT comes in 5 exterior paint colors including this Skyfall Silver with side vinyl and conspicuous lipstick surrounding the grille. I still love the looks of the Vantage but this silver/white color combo would be my last choice. All told, it's a magnificent driving car with exotic allure, sure to woo a least a handful of Jaguar F-TYPE shoppers and now, relatively bargained priced.