Audi Q5 2019 Video Review
Audi Q5 2019 Video Review By Auto Critic Steve Hammes
Earlier this year I spent a week with the next generation Audi SQ5.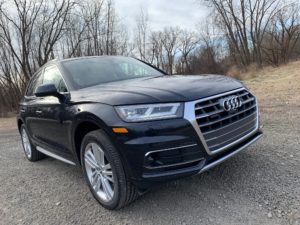 Was I blown away with this high-performance compact SUV?
Eh, not so much, for a number of reasons some of which can be pegged on the unseasonably cold weather during that test week.  But this regular Q5 with the more plebeian 2.0-liter turbo?  Now this is impressive.
First off, it's obviously less expensive and more fuel efficient; a savings of about $10k and 4mpg. Secondly, this one has that super soft, luxurious, quiet ride about it that's both more mature and satisfying.  And the other big takeaway from the Q5 is how user friendly the experience can be, most notably when spec'd in Prestige form where comfort and convenience parlay into a warm and fuzzy car to driver relationship.
Pricing starts at just below $44,000 including destination for a base Q5 Premium while this Prestige model highlighted by its standard adaptive cruise control with stop and go including lane assist for rush hour relaxation, power adjustable steering column, an enriched B&O 19-speaker sound system with immersive acoustics, an easy-to-read head-up display and a surround view camera that'll make you a parking hero comes in at $58,440 with nearly every available option.
No matter which Q5 you choose, it'll be powered by the segment staple; a 2.0-liter 4-cylinder turbo producing 248 horsepower and a lively 273 pound feet of torque working through a 7-speed dual-clutch automatic transmission driving all 4 wheels. This latest version of quattro, with what Audi calls ultra technology, is designed to preserve fuel economy by decoupling the rear axle until the car's computers determine the rear tires need to join in.  And my gas mileage was right on point, averaging a noteworthy 25mpg on premium.
From a driving perspective, the Q5 is everything I want in a vehicle of this type.  Audi Drive Select with 5 settings modifies the engine, transmission, steering and even the cruise control characteristics to provide the tailored experience you desire accompanied by ambient light changes.  I've mostly left it in the Auto setting where the steering is as light as a feather and the powertrain is as smooth as porcelain.
There is no dual clutch weirdness here…gear shifts are conducted with complete grace.  Even without the adaptive suspension, the Q5 always feels wonderfully composed over all road surfaces and sufficiently agile.  These upsized 20" Continental tires are a perfect all-season match for the Q5's chassis, delivering beautifully balanced ride and handling.  I've put a lot of miles on this Q5 and it's as endearing if not more so than any of its competitors.  With a heated steering wheel, heated seats, a quick to warm climate control system and leather upholstered cushioning that splits the difference between soft and sporty, the car to driver handshake is welcoming indeed.
This is an SUV that eagerly wants to be your friend by doing all of the chores, allowing you to enjoy every trip.
Dimensionally, the Q5 just fits right no matter where people or cargo is residing. And though these seats cleverly slide and recline there are no USB charge ports back here.
Compared with the previous generation, this one offers more leg and shoulder room in the rear and greater cargo capacity with the seats dropped…you can do that from the back but the job isn't completed until you click them into place. There are clever retention straps, cargo nets and hooks for securing items.
From a tech standpoint, the Audi virtual cockpit still wows every time with its awesome Google mapping and high configurability. I love having this information directly in front of me, and in the size I choose with convenient steering wheel controls.  Over here is the MMI all-in-touch system with handwriting recognition, but with very good natural voice commands and the rotary knob controller it's usually the last choice for infotainment input.
The MMI system is really pretty good both in terms of features and ease of use but the user experience could be even better if this display, which is in safe distance of the driver, was a touchscreen.
There are a lot of neat features in here, including a what's happening in your city app that'll direct you to where the fun is. I only wish my phone had a better place to rest when I'm using Apple CarPlay because neither of these cubbies are of any help, leaving it to flop around in the cup holder as a last resort.
Zero-to-60mph in under 6 seconds: check. Efficient and luxurious yet fun-to-drive: check.  Super smart, techy and comfortable: check.  This next-gen Q5 is most certainly a winner.
Tagged with:
2018
,
2019
,
Audi
,
auto critic
,
DT with Steve Hammes
,
latest video
,
LUXURY SUV
,
Prestige
,
q5
,
quattro
,
reviews
,
steve hammes
,
SUV
,
top picks
,
video reviews