2015 Alfa Romeo 4C VIDEO REVIEW
2015 Alfa Romeo 4C VIDEO REVIEW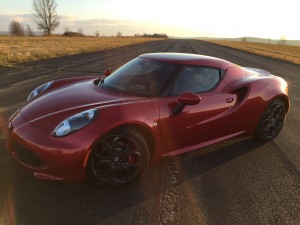 What boy didn't grow up dreaming of one day owning an Italian sports car?  I know I did.  As a kid, I came across a review in a magazine of the Lamborghini Countach; a singular moment which actually inspired my love of new cars.  But unless you're filthy rich, machines like that remain on a poster at Spencer Gifts.  So what other Italian choices do you have?  Well, you could get a Fiat but that's not quite the same thing, or for the first time in the U.S. since 1995, an all-new Alfa Romeo awaits that doesn't carry a 6-figure price tag.
One could argue that there's already a lot of Alfas driving around ever since the 2012 introduction of the Dodge Dart – a car built upon Fiat architecture and adapted from the Alfa Giulietta.  But the 4C – an alphanumeric name referencing the number of engine cylinders and its coupe bodystyle – is certainly more of what Americans envision when they hear the name Alfa Romeo.  Of course, it's red, racy and ridiculously quick.
A lot of sports cars today try to also exude a luxury presence.  But there are compromises being made in that arrangement on both sides of the equation.  The 4C on the other hand is a true sports car.  Its purpose is speed and handling with all of the visceral goodness that accompanies them. You sit deep in the carbon fiber tub, the seats have little padding and even less maneuverability, and creature comforts are highlighted by this bargain basement radio.  But as a pure driver's car, the 4C provides everything you could want; rapid responsiveness, the awesomeness that is the sports exhaust and the go-cart-like handling of a lightweight, mid-engine car without power steering.  It is one of the most enjoyable cars I've ever driven.
Sitting transversely behind the seats and visible from inside and outside the car, is a 1.8-liter direct-injected turbo 4, or as Alfa prefers a 1750 cc motor.  This mid-engine, rear-wheel drive layout lends to near perfect balance in a car that weighs less than 2,500 pounds.  For reference, that's less than a Mazda Miata, a car in which it shares a similar toy-like size, with the 4C's roofline remarkably 3" lower.  So the 4C makes getting in and out of a Viper seem like child's play.  Once situated, the non-height adjustable upright seats provide a commanding view through the windshield with the road appearing right before your eyes.  Interacting with the 4C's 6-speed dual-clutch transmission requires the pressing of buttons with '1' acting as 'Drive.'  The shifts are blisteringly fast and can be executed in full manual mode through the paddle shifters.  Each gear change elicits a cacophony of sound featuring blats and snorts as revs build feverishly from the turbo's thrust.  It's surprisingly smooth around town too, but loud is the name of the game, particularly with the optional Racing Exhaust, a $500 extra that is so worth it.  Everything about the 4C is incredibly organic and mechanical, from the exposed carbon fiber, metal and bolts to the manual steering that demands both hands on the wheel and a bit of muscle, particularly in low speed maneuvers – the experience of driving a 4C is as close to motoring a race car as most will ever get.  Its neutral handling and firm brake pedal provide the confidence to drive for fun without a steep learning curve.
This is the Alfa DNA selector with pre-configured settings for the engine, transmission and differential ranging from the safety of 'all-weather' mode to the uninhibited, it's all up to you 'race mode.'
And within that setting is launch mode, which takes the 4C from 0-to-60mph in 4.1-seconds.  Its 258 pound-feet of low to mid-range torque and 237 horsepower are a testament to the achievements of aerodynamics, small-displacement and low weight.  And I bet you didn't think it would net 24mpg city/34mpg highway, making it considerably more fuel efficient, faster and less expensive than a Porsche Cayman S.
You don't buy the 4C to be your only car.  Its small trunk space allows for a bag, the ride can be brutally firm on the wrong type of pavement and the words comfy or well-appointed will never be used to describe the cabin.  And if there was ever a car that could use a back-up cam it's this one. But that's also part of the Italian car charm, along with the gaggles of admirers who follow you everywhere.  Alfa dealers are few and far between and initially, there aren't a lot of 4Cs to go around, but with a base MSRP of $55,195 and as tested price of $66,545 this is the right car at the right price to reintroduce Americans to the Alfisti way of life.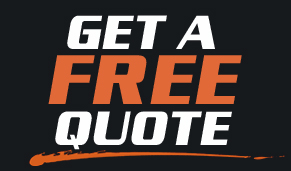 CLICK HERE to get a FREE ONLINE PRICE QUOTE for your NEW ALFA ROMEO from a dealer near you. Absolutely NO OBLIGATION.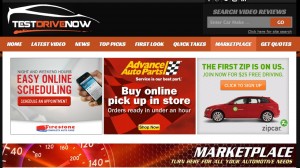 CLICK HERE TO FIND TODAY'S HOTTEST DEALS! TURN HERE FOR ALL YOUR AUTOMOTIVE NEEDS AND MORE.

CLICK HERE to LIKE TestDriveNow.com on FaceBook!

FOLLOW Steve Hammes on Twitter @DriveTimeVideos!