2017 VOLVO XC90 T8 VIDEO REVIEW
2017 VOLVO XC90 T8 VIDEO REVIEW BY AUTO CRITIC STEVE HAMMES
Volvo's rebirth has been led by this 2nd generation XC90; their first all-new car since the 2010 merger with Geely. I had my first taste of a T6 R-Design model last year and quickly understood the attraction. This time, I've got the one with a cord – a plug-in, gas-electric hybrid with more performance and MPGs.
As fresh as some late summer lingonberries, the XC90 starts life anew for the Volvo brand; a 3-row, range-topping SUV steeped with Swedish flavor. Most will certainly choose one of the T5 or T6 gasoline-only models but a select few will be seduced by the warm and fuzzy feelings provided by an electrified version.  It's faster, can be more fuel efficient and imposes no sacrifice as it pertains to seating or towing.  Of course, there's a price premium and it's not insignificant; the T8 is priced at over $11,000 more.  What that gets you is one of the most complex powertrains on the market. This XC90 can be driven over a short distance utilizing electricity alone dependent upon a number of factors.  Once the hybrid battery is completely discharged, the T8 continues to run as a parallel hybrid, blending its 2 separate drive systems.  The uniqueness to this setup is that the traction motor is located over the rear axle, so when the vehicle is in electric mode it's driving the rear wheels.  If your right foot commands more power than can be provided by the motor or if you've run out of sufficient battery charge, the gas engine engages the front wheels.  In conjunction with regenerative braking, the 2.0-liter engine can also aid in replenishing the hybrid battery.  Three distinct driving modes cater to your desires.  Hybrid is the default setting upon startup – suitable for everyday driving.  For a more eco-friendly setup Pure mode prioritizes electric operation, up to 14 miles under ideal conditions.  And for times when you're feeling frisky, Power mode combines the performance of the combustion engine and the electric motor delivering the full-on 400 horsepower and 472 pound-feet of torque.  This results in a much hastened 0-to-60mph time of only 5.3 seconds despite the T8's considerable weight gain from its hybrid components, considerably faster than its BMW counterpart.  Backed by one of these funky Volvo 4-cylinder engines that's both supercharged and turbocharged it doesn't sound very pretty, but it sure feels quick.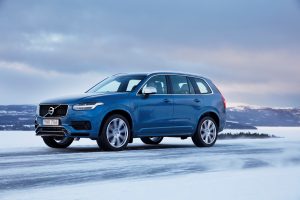 If you're driving in slippery conditions you'll want to engage All-Wheel Drive mode to improve traction which keeps the rear axle constantly engaged, even if you've drained the battery. Furthermore, the Off Road Mode can be used at speeds below 25mph which locks the differentials and tailors other aspects of the chassis for the rigors of off-roading including raising the air suspension for an impressive 10.5" of ground clearance.
Despite its optional 4 corner air suspension, it can be too firm, particularly off-road. Blame some of it on these mammoth 21" tires and the rest on the extra weight it's managing.  Volvos are known for their exceptional ride quality and superb front seats and half of that equation is missing here.  I've had a little bit of a love-hate relationship with the T8 this week but it still feels stellar from behind the wheel.
The deft steering and sports sedan handling still rise above the fray and the typical hybrid characteristics such as odd brake feel are present but kept in check. One of my struggles comes courtesy of this Sensus system.  It looks cool, at least when it's not covered in finger prints, and mimics your tablet's operation but navigating through the pages and finding what you need can be distracting and aggravating.  There's almost zero redundancy with buttons and the speech control is lousy, but there is some cool stuff in here such as CarPlay, high speed WiFi, and a host of new apps such as Skype.  It's all updatable over the air too and is the conduit for this tester's optional Bowers and Wilkins sound system – an audiophile's dream.  I'm also not in love with the hybrid-specific gauge information – it's busy and difficult to discern as compared with other hybrid displays.  The autonomous Pilot Assist feature which does some of the driving for you isn't nearly as good at its job as the system in the Mercedes E Class.  There are however a ton of safety and assistance features in here including this industry leading 360 degree camera with its brilliant display.
A smartphone app gives owners great control over charging and preconditioning the vehicle among other things, which by the way takes about 2.5hours via 220 volts or about 7 hours using a regular household outlet like I have here. Based on the EPA's estimates regarding plug-in hybrids, the fully-charged T8 earns a 54mpg equivalent for the first 14 miles and then makes due with 25mpg thereafter resulting in a total driving range of 350 miles.  Like any hybrid, actual mileage depends upon a number of conditions and varies widely, impacted by the season, driving demands, etc.  The 54mpge trails that of the BMW X5 xDrive40e by just a bit but far exceeds the mileage of the Mercedes GLE550e 4Matic.  But the T8's ace in the hole is that its centrally located lithium-ion hybrid battery still allows for a small 3rd row, preserving its 7 passenger seating capacity.
Its look is spot on and this cabin is one of the benchmarks for the entire industry – absolutely stunning. But there are one too many annoyances here and not enough fuel savings to validate its $85,190 as-tested price, including a shifter that has to be pushed twice to engage drive and reverse.  Unfortunately it loses a little bit of its charm from T6 to T8 despite its rock star looks, Einstein smarts and captivating presence.
Tagged with:
2017
,
DT with Steve Hammes
,
EV
,
Hybrid
,
latest video
,
plug-in
,
reviews
,
steve hammes
,
SUV
,
T8
,
Volvo
,
xc90