2017 NISSAN PATHFINDER VIDEO REVIEW
2017 NISSAN PATHFINDER VIDEO REVIEW BY AUTO CRITIC STEVE HAMMES
Nissan's given their venerable Pathfinder a thorough makeover for the 2017 model year, highlighted by a more powerful engine, a dynamically retuned suspension and a host of convenience upgrades.
The Pathfinder made the transition from stout 4X4 to family-friendly 3-row in 2013. Built upon a front-drive unibody chassis it shares with its upscale cousin the Infiniti QX60, Pathfinder sales have dipped this year at a time when SUV purchases are flourishing once again. To reinvigorate interest, Nissan has imbued it with a bolder front end design, a significantly revised 3.5-liter engine and a tautening of its springs and shocks. Convenience and connectivity upgrades include small items such as redesigned cupholders capable of accommodating mug handles, an illuminated front storage bin and 2 USB ports inside the console. The Drive Assist Display features additional information, though still no digital speedometer and the voice recognition has been enhanced. And following the industry trend, there's a new motion-activated liftgate that works with a wave of your foot. The 2017 Pathfinder's advanced driver assistance technology includes new Forward Emergency Braking and Intelligent Cruise Control while Moving Object Detection has been added to the Around View® Monitor…one of my favorite features when maneuvering in tight quarters. It can now tow 6,000 pounds and despite the power boost from 260 to 284 horsepower and 240 pound-feet of torque to 259, gas mileage remains the same for this king-of-the-hill Platinum 4WD trim, rated at 21mpg in combined driving. Non Platinum trims gain an additional 1 mpg from the V6 keeping it right in step with the Honda Pilot.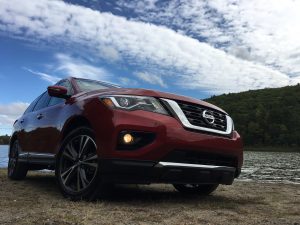 The new direct injected engine is a powerhouse, easily capable of overwhelming the front tires. I've embarrassingly squealed them a few times without trying. And the continuously variable transmission, or CVT if you will, is a silent powertrain partner that doesn't get in the way. But it's this retuned electric assist steering that puts a wet blanket on the driving experience, creating a detached, artificial feel.
From a family perspective, the 2nd and 3rd rows work quite well with the passengers' side cable of sliding forward without first having to remove a child seat. These split fold seats also slide and recline, a key attribute for times when those in the 3rd row need more leg room. Split the difference with those in the way back and everyone gets enough space. Equipped with the optional Family Entertainment Package, you get DVD though no Blu-ray playback and 1 additional USB port. The rear also includes auto climate control, heated seats and a dual panorama moonroof, all standard. Quiet and comfy for up to 7 passengers, the Pathfinder has the goods for the rough and tumble world of family hauling duty, including easy reconfiguring of the seats and cargo area. Grocery bag hooks, tie down cleats and underfloor storage add to the smartness. It plays bigger on the inside than its outward appearance suggests. But for a Platinum-level model, the look and feel of the interior just isn't up to snuff with a general aura of passé mixed with a lack of detail. The plebeian leather, fake looking wood grain and the far too familiar Nissan switchgear don't infect 2017. The infotainment lacks Siri Eyes Free, Apple Car Play and Android Auto. Overall, the features are plentiful but with an as-tested price of $46,160 I expect a higher degree of luxury.
Nissan has also extensively retuned the suspension by stiffening key components and adding rebound springs to the front struts. It definitely gives the Pathfinder sportier handling characteristics though with a bit of a harsh edge at times but furthermore it allows this crossover to drive with more compliance off-road, making it feel more like the rugged, comfortable SUV it once was.
And this is where the Pathfinder most surprised me. Even though there's only 7" of ground clearance and a set of 20" all-season tires, the Pathfinder can still get after it on the trail with a selectable 4-wheel drive lock mode, hill decent control and a low setting for the transmission.  It's surprising how effortlessly tough it drives through the mud, water and rocky terrain feeling more lovable off-road than it does on.  This current gen Pathfinder earned some cred with me.
Other than the mismatched halogen fog lights and low beam LED headlights, I like the new hardened appearance and the light gun metal finish on the wheels works really well. A base 2WD Pathfinder S starts at $30,890 with 4 available trim levels.
There's a crop of very attractive 3-row crossovers on the market so families have plenty of excellent choices. Though not at the top, the 2017 Pathfinder provides the emboldened the ability to venture farther off the beaten path in confidence and in style.
Tagged with:
2017
,
4X4
,
auto critic
,
DT with Steve Hammes
,
Nissan
,
off road
,
Pathfinder
,
Platinum
,
reviews
,
road test
,
steve hammes
,
SUV
,
test drive