2017 GMC YUKON XL DENALI REVIEW
2017 GMC YUKON XL DENALI REVIEW BY AUTO CRITIC STEVE HAMMES
It's been 4 years since the last time the 3 of us packed-up and headed south for a little R&R. Now, this may come as a surprise but I don't really relish driving over 22 hours on I-95 even if it is to sunny Florida. But just like last time, I've summoned the help of a GMC to make the voyage a little easier…or in the case of the Yukon XL Denali, a lot easier.
Winters are long in upstate New York and spring blooms pretty late here. I've seen snowstorms in mid-May, so visions of South Florida beaches have been dancing in our heads for many months. I've done this drive more times than I care to remember and the older I get the less tolerance I have for it. So I felt relieved when I read through the specs of this fully loaded 2017 Yukon XL Denali. It literally has every feature I want for this type of driving; blind spot monitoring, adaptive cruise control, head-up display, navigation, Apple Car Play, Wi-Fi, a Blu-Ray rear entertainment system with an abundance of connections and of course, lots of cargo room. Those are my priority points. The fact that it also packs in tri-zone climate control, heated and cooled seats, auto wipers and high beams and just about every other safety and creature comfort means all I have to do is babysit the steering wheel. And that's what I-95 driving is…a never-ending game of traffic chess. This isn't enjoyable driving, so anything to soothe the nerves and calm the temper is welcome and this Yukon has that angle completely covered.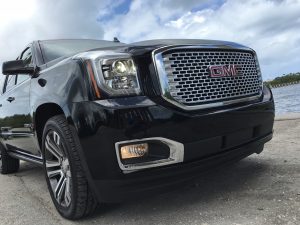 It's massive with an extra 20" of length but slicing through traffic is remarkably easy. GM is the authority on making big trucks drive like cars and even Lara felt comfortable taking the helm. Parking can cause some heartburn but with power folding mirrors, front and rear park assist and a backup cam it's manageable. A 360 degree surround view camera would make for a nice addition.
When I first learned our vacation vehicle was going to be a Yukon XL, I thought it was way more than the 3 of us needed. And while we have an abundance of space, it's this GMC's other attributes that make it the ultimate road warrior.
Magnetic Ride Control is a boon to whatever GM vehicle receives it and these special shocks do wonders for both ride quality and body motion control. There's no slop here when you're aggressively overtaking and everything beneath the tires seems to just disappear. It's that smooth. And I can't believe how effective the active noise cancellation is, especially considering this is a huge rig, with a brawny V8 and 22" tires.
I've averaged over 20mpg and highway passing with this V8 is never an issue. Our biggest surprises; it's library quiet and the ride quality is wonderfully soft and composed.
This 6.2-liter V8 makes 420 horsepower and 460 pound-feet of torque yet with new front active aero shutters and a V4 mode, this 4X4 scored us stellar mileage and the driving range is off the charts…almost 700 miles on the highway. I've put in the recommended premium gas but it'll run on 87.
Arriving to our destination as rested as possible, the Yukon did its job admirably. A couple of suggestions for add-ons would be speed limit information and queue assist for the adaptive cruise control so in crazy stop and go traffic you wouldn't have to even lift a foot.  The boxy, angular design isn't particularly modern and for a Denali I'd like to see even more differentiation, particularly in the cabin where aesthetics take a 3rd row seat to functionality…it's easy to use but doesn't look like an $80,000 SUV.
And with just about every option, that's where this one lands, at $80,890. That's no doubt big money but I can't get over how many of these I've seen on the road so GMC no doubt has a willing customer base.
So GMC and the Hammes' are 2 for 2. There's no better way to get to know a vehicle than to basically live in it with your family for 2 weeks and the Yukon Denali exceeds expectations in every regard.  As we say goodbye to palm trees, water slides and 80 degree temps, home is calling.  The family truckster has matured exponentially since I was a kid and some might say we've gone soft with all of these fancy comforts but driving isn't what it once was either with congestion one of our country's biggest problems and a vehicle like this can be the difference between arriving calm and going cuckoo.
Tagged with:
2017
,
4WD
,
auto critic
,
Denali
,
DT with Steve Hammes
,
GMC
,
latest video
,
reviews
,
road test
,
road trip
,
steve hammes
,
test drive
,
top picks
,
XL
,
Yukon